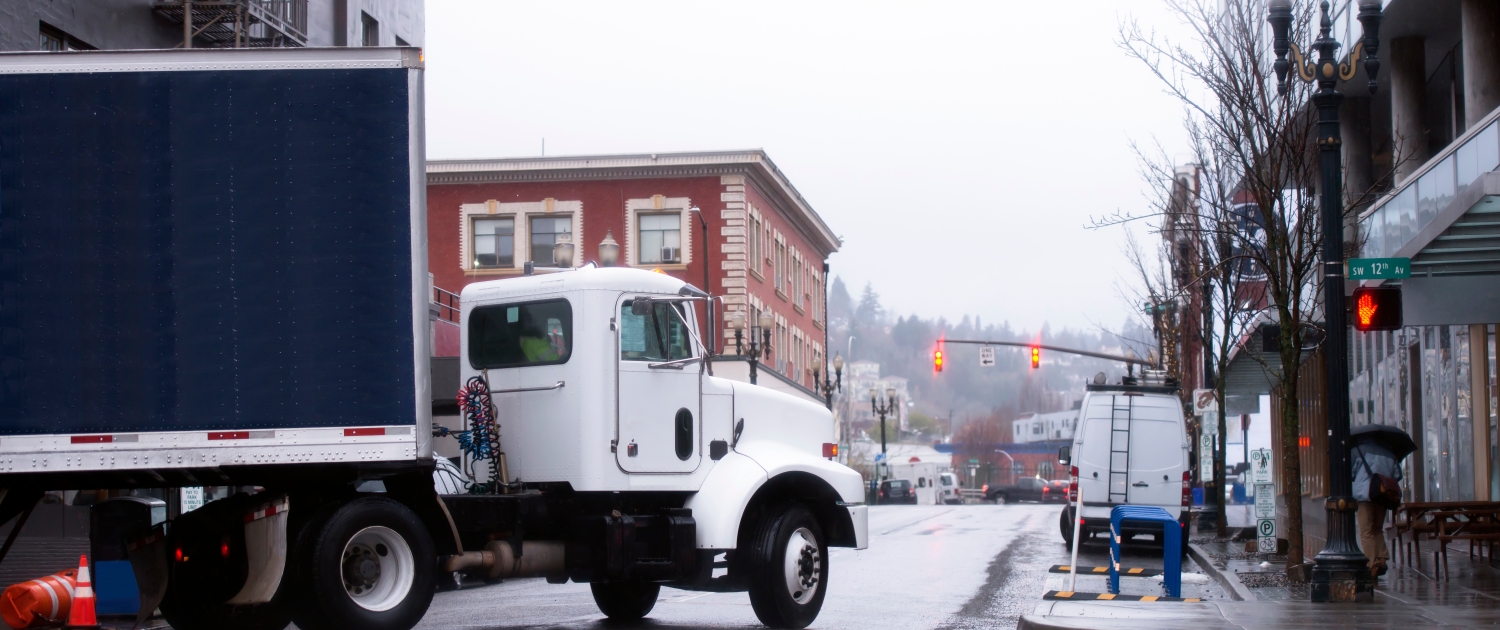 If you were to ask truck drivers where their favorite places to drive are, chances are that most would say on the open road, with empty highways and clear skies. What they wouldn't say is during rush hour in a congested city. Unfortunately, as a truck driver, you'll have to drive in all types of places, even the latter. 
If you're a new truck driver worried about city driving, you're not alone. New truck drivers experience this fear every day. But they also overcome it and drive through crowded city streets with no problem. Here are 5 city truck driving tips for new truck drivers.  
1. Try to be early whenever possible
This is easier said than done, but whenever you can control it, try and be early for your drop and hook appointments if you know they're in a crowded city. By being early, you can scope out where you'll need to pull in and how you'll need to maneuver your truck and trailer. Being early also gives you the time needed to deal with any traffic or construction delays you might encounter in the city. 
2. Use Your Mirrors
Using your mirrors isn't just a tip for city driving, it's important at all times you're behind the wheel. That being said, mirrors become much more useful in a crowded city. Check them often to look out for pedestrians, bicyclists and cars attempting to merge. They're especially useful when there's two lanes of traffic turning at the same time.  
3. Keep Extra Distance if You Can
There's a lot of stop and go traffic in cities. If you're not giving the proper amount of stopping distance, taking your eyes off the road for even half a second could be enough time for you to rear end somebody. 
4. Be Cautious
More cars and pedestrians, with less room to drive means that you should have a general sense of caution when driving in the city. Don't try to eyeball sharp turns and difficult maneuvers. Always use your mirrors and, if you're able to, get out of the cab and check what you're doing if you're feeling uneasy about something.
There are some drivers who think this makes them look like a newbie or unskilled, but that's far from the truth. The best drivers are the ones who put safety above all else. 
5. Know Your Route
If you've never been to a customer's location before, don't just rely on Google or Apple maps to get you there. While these apps are usually fine to show you which highway or route to take, they're a little less reliable when you need them to plan routes in cities. They may not tell you about one-way streets, roads with weight limits, construction, and other road disruptions.  
Instead, give the customer a call to get directions. They'll know the best route to get there and will even give you directions for where and how to park when you get there.  
Driving in the city for the first time can be a nerve-wracking experience for new truck drivers, but as long as you're cautious, and keep your wits about you, you'll be out of those congested streets and back on the highway in no time. 

Drive My Way matches you with a job based on your preferences like pay, home time, touch level, and more.
https://www.drivemyway.com/wp-content/uploads/2022/11/AdobeStock_156502123-scaled.jpeg
1367
2048
Reid Smith
https://www.drivemyway.com/wp-content/uploads/2022/03/Untitled-1-3.png
Reid Smith
2022-11-10 14:51:46
2022-11-10 14:51:46
5 Tips for City Truck Driving