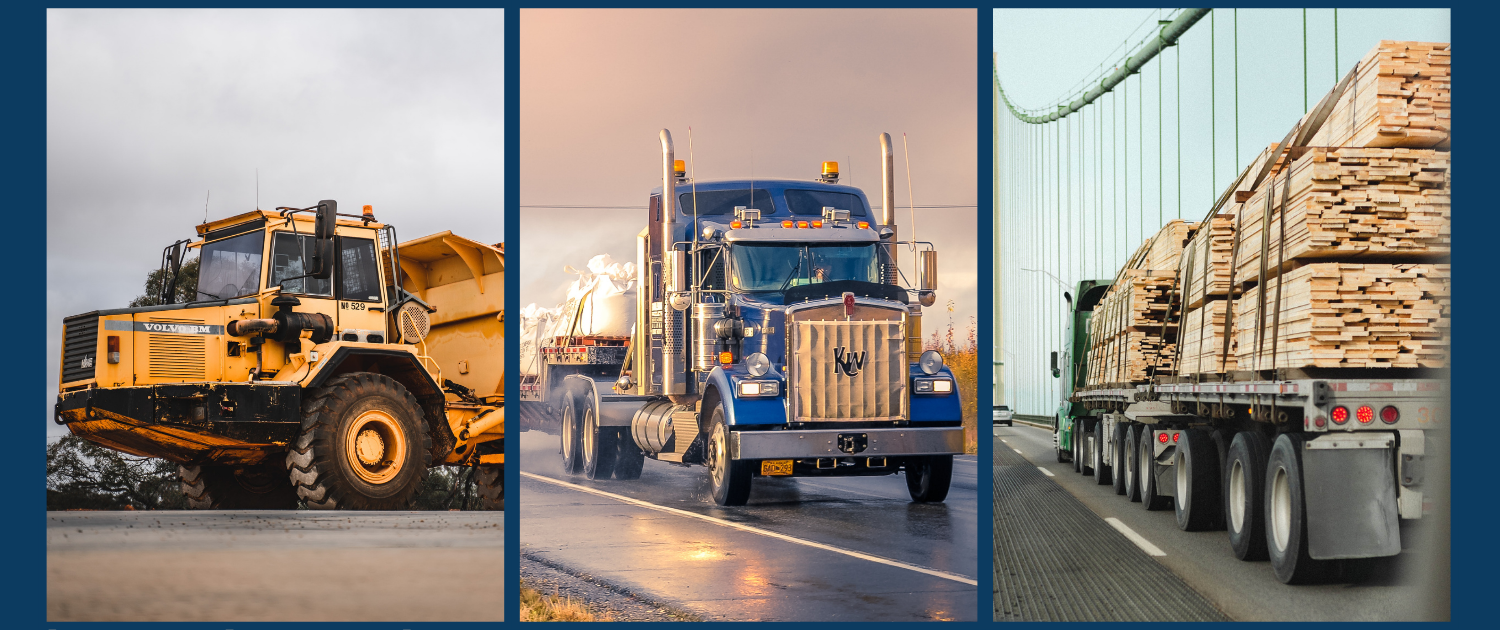 The saying "everything gets moved on a truck" isn't much of an exaggeration. Dry goods, farm animals, propane, ready-mix concrete, and just about anything else you can think of gets loaded onto a truck trailer at one point or another.  
Over time, people have figured out the best way to haul these different kinds of freight, and there are now specializations for each one. Each of these specializations have different CDL requirements and afford different home time for the driver. Here are the 13 main types of truck driver hauls along with the CDL needed for each one. 
The 3 Types of CDL

Before you get any type of trucking job, you'll first need a CDL. Here are the three classes of CDL and what you can drive with each.  
CDL A
This is your standard CDL that lets you drive a semi-truck with a trailer in tow. Here's the official definition from the FMCSA of what CDL A holders can drive, 
"Any combination of vehicles which has a gross combination weight rating or gross combination weight of 11,794 kilograms or more (26,001 pounds or more) whichever is greater, inclusive of a towed unit(s) with a gross vehicle weight rating or gross vehicle weight of more than 4,536 kilograms (10,000 pounds) whichever is greater. "
This means that anyone with a CDL A can drive a truck with a GVWR greater than 26,000 pounds and a trailer weighing more than 10,000 pounds. CDL A drivers can drive any CMV, including class B and C vehicles, provided they have the appropriate endorsements.  
CDL B
A Class B CDL is a restricted license as you are not allowed to drive large tractors that tow 10,000 pounds or more. This eliminates the ability to drive your standard 53' trailer. So, what can you drive with a CDL B? Think of dump trucks, delivery trucks, and city buses. Two huge benefits to CDL B jobs are that most positions will be local, and the age requirement is 18 since you won't be moving freight between state lines.  
CDL C
A Class C is the most unique type of CDL and for good reason. Besides being able to drive a shuttle bus or limo, there's very little someone can do with a CDL C without the necessary endorsements. Even with those endorsements, most drivers consider it better to just go ahead and get your CDL B or A instead.   
The 3 Types of Runs

OTR, local, and regional are the three main types of trucking runs you'll encounter as a driver. Here are the differences between each one.  
OTR
OTR stands for "Over the Road". OTR drivers go all across the country and are usually out for a few weeks at a time. This type of trucking is for someone who really loves the trucker life and doesn't mind being away from home for long periods of time. Because of the nature of this work, OTR drivers, especially the more experienced ones, tend to make more than regional or local drivers. 
Local
As the name suggests, local drivers stay close to home and are usually off on the weekends. A few tradeoffs are that local drivers on average make less than regional or OTR drivers, and the work may be more physically demanding (think delivery and final mile jobs). But if you're a driver with a family and are looking for steady pay and a set schedule, local jobs are hard to beat.  
Regional
Regional trucking is the midway point between OTR and local. Regional drivers will run routes across a specified region, usually a few states covering 1,000 miles. This means that regional drivers are home every few days. Just like with local jobs, there's also a level of predictability with regional work, since you'll likely have a set route you run.  
13 Types of Trucking Hauls

Auto haulers are some of the most recognizable trucks on the road. As you could guess, auto haulers are responsible for transporting new and remarketed vehicles from manufacturing plants, ports, railheads and auctions to retail dealerships and auction sites. These jobs can be local, regional, or OTR and require a CDL A.  
Building products hauling is often a local position where drivers deliver roofing and other building products to customer's homes and job sites.  
This type of work is for drivers who don't mind splitting time between driving and doing manual labor like unloading and loading building products and working in the warehouse. The good news is that these positions are usually local and only require a CDL B.
Concert truckers haul stage and lighting equipment, instruments, and anything else needed for concerts and shows. Drivers will go on tour with bands or acts for a few months at a time to support an entire tour or a leg of it.  
Concert trucking jobs pay very well, and you build a level of camaraderie with other drivers you're on tour with, but they're definitely not for someone who needs a lot of home time. 
Dry Van trucking is what you think about when you hear "semi-truck". Dry van truckers haul a 53' trailer filled with pallets or loose cargo. "Dry Van" can also mean a straight truck or PUP trailers, though that's not what we usually think of with Dry Van. These jobs are usually OTR or Regional and require a CDL A. 
Final mile is any time that all-important last step of the logistics chain is completed, when the product goes from the warehouse to the customer's front door. Final mile drivers can drive anything from a straight truck down to a sprinter van. This means that to drive for some carriers, you won't even need a CDL, and at most will need a CDL B.   
The biggest benefits to final mile driving are the home time and consistent shifts, since these positions are typically local. The downside is that final mile driving is fast-paced, with a lot being expected of these drivers. 
Flatbed drivers are some of the most in-demand drivers in the trucking industry today. Why? Flatbed driving is a highly skilled position that not every trucker can do. Many times, these drivers carry oversized loads and need to know how to secure them properly and how to drive very carefully to avoid mishaps or accidents.  
Because of this, flatbed jobs tend to pay better than most CDL jobs. These positions are typically reserved for CDL A drivers but can be local, regional, or OTR.  
Hazmat drivers haul any type of hazardous materials from one place to another. A hazardous material is anything that could harm a person, animal, or the environment when it mixes with other things like air, fire, water, or other chemicals.  
Because of this, these drivers need to have a special endorsement before they can start hauling hazmat. Like flatbed driving, hazmat jobs are in-demand right now, so it's a great time to get your endorsement. These jobs can be local, regional, or OTR and typically require a CDL A.  
Livestock hauling is defined as hauling any freight that's alive. While we usually think of cows, pigs, and chickens, livestock hauling encompasses everything from horses to bees.  
With livestock hauling positions, there's more to it than just the driving. Drivers must completely sanitize trailers after every load, or they could infect the livestock in their next load. All this extra work does pay off though. Livestock hauling is considered a specialty position, so drivers are well compensated for their work. Livestock hauling can be local, regional, or OTR and typically requires a CDL A.  
Ready mix drivers work with concrete and spend most of their days outside. The main job of a ready mix driver is to deliver concrete or cement to a job site. In most cases, drivers will be responsible for loading and unloading, so this is a labor-intensive job, but don't let that scare you away. 
Ready mix jobs typically pay well. This is particularly true considering that many positions are local and only ask for a CDL B license. One drawback is that this line of work is highly seasonal and dependent on weather. 
Refrigerated (or reefer) drivers haul a specialized trailer that keeps cargo at a certain temperature, like frozen food, produce, and medicine. Reefer jobs can be CDL B, but typically require a CDL A. They can also be local, regional, or OTR.  
Tanker drivers haul gasses or liquids. These positions are seen as more dangerous and skilled than your average CDL position, so the pay reflects that. If you're driving a tanker, there's a good chance you'll be hauling hazmat, so it's a good idea to get your necessary endorsements before looking into this kind of work.  
Tanker drivers are needed for all sorts of runs, so as long as you have your CDL A and the necessary endorsements and experience, you'll be able to find local, regional, and OTR work as a tanker driver.
Team driving is when two drivers share a cab and driving duties. Some special types of hauling require team drivers, usually when cargo is time sensitive or very valuable. But team drivers are more common with owner operators. Many times, a husband-and-wife team will be partners on the road, each taking a share of the driving.  
The biggest advantage of team driving is that you're able to cover much more ground than you would as a solo driver, since team drivers can switch off between driving and sleeping. Just make sure you get along with your co-pilot, otherwise team driving can be more of a headache than it's worth. Most team driving positions will be for CDL A drivers running OTR or regional.  
Waste Management truck driver jobs can be a great fit for new and experienced drivers alike. They're also good for drivers who like to stay on the move throughout the day. One thing to keep in mind is that these jobs require a lot of physical labor. Waste management jobs are typically local and only require a CDL B. 
Interested in any of these positions? Drive My Way has hundreds of open CDL positions with industry leading carriers in many of these categories. Make a free, secure profile below and find your next CDL job.  

Drive My Way matches you with a job based on your preferences like pay, home time, touch level, and more.
https://www.drivemyway.com/wp-content/uploads/2022/07/Untitled-design-5.png
630
1500
Reid Smith
https://www.drivemyway.com/wp-content/uploads/2022/03/Untitled-1-3.png
Reid Smith
2022-07-08 14:22:17
2022-07-08 14:22:18
13 Types of Truck Driver Jobs and How to Get Them