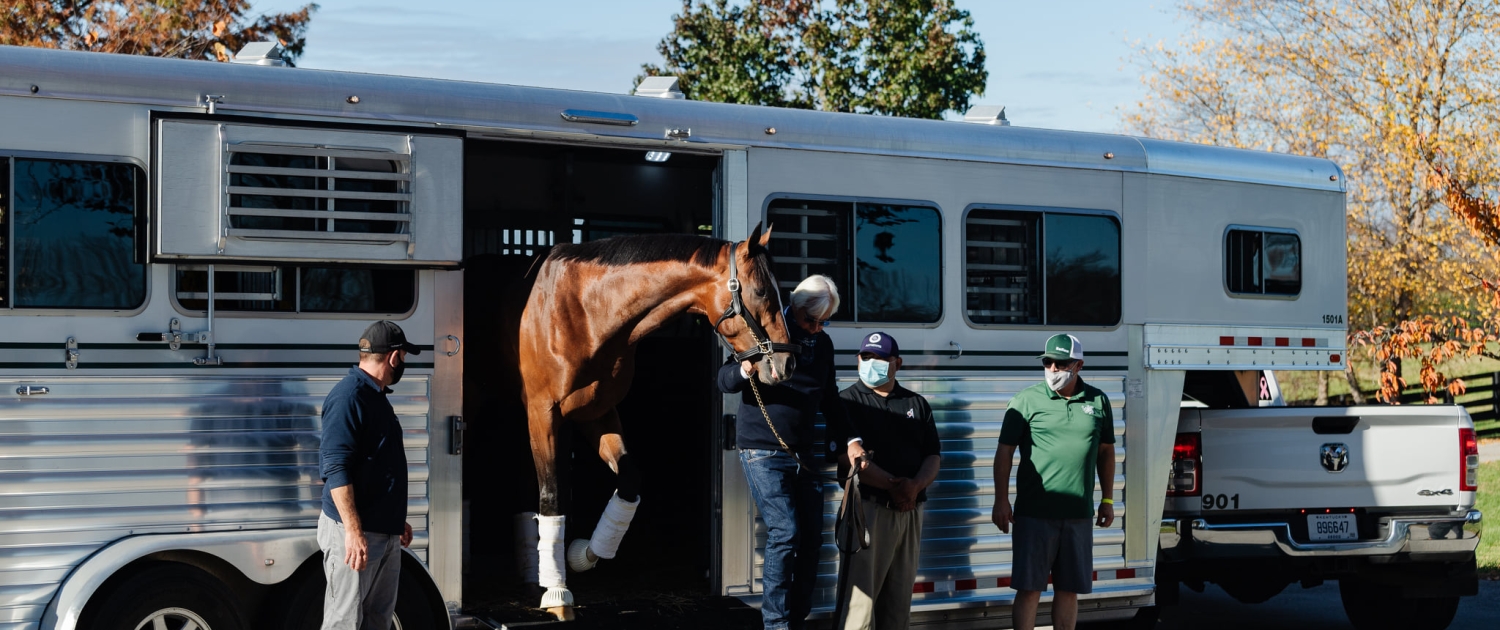 This past May, 16 million people tuned in to watch one of the biggest upsets in Kentucky Derby history. Rich Strike, a horse who the day before, wasn't even slated to race, did the unthinkable and won the 148th annual Kentucky Derby in a miraculous come from behind victory. Moments like these are what make horse racing such an unpredictable and exciting sport.  
While we only see the end product on the track, there are countless people working behind the scenes to make these races possible, including the people who transport the horses from place to place. They're called horse transport truck drivers, and they're the engine that makes the horse racing industry go.  
What is a Horse Transport Truck Driver?

A horse transport truck driver is a driver who transports horses from place to place. This could be from training facility, to racetrack, farm, or anywhere else they need to go. These positions are typically either Regional or OTR due to the amount of distance between these places. 
How do you Become a Horse Transport Truck Driver?

You'll of course need to have your CDL A before becoming a horse transport truck driver. Aside from that, you'll also need to learn how to load, unload, and handle the challenges of transporting large animals like horses. Luckily, most carriers that specialize in this work will train you on that. 
What is Being a Horse Transport Truck Driver Like?
We were able to talk with Bill, a CDL A Driver with Drive My Way client, Sallee Horse Vans. Bill talked to us about what it's like to be a horse transport truck driver and why he enjoys it. 
How long have you been a driver with Sallee?
"I've worked as a horse transport driver with Sallee for 5 years."
What does your average day look like?
"I start by checking in with dispatch, getting the trailer ready (bedding down) for the number of horses we're planning to load. Then I drive to the farm, racetrack, or training facility. Next, we load the horses and start the trip to our final destination."
What made you choose working with Sallee over other OTR jobs?
 "I like working as a horse transport driver because it's something different other than bumping a dock."
What's one thing a driver who's thinking about working in transporting horses should know?
"There's never a dull day in this job. The horses will challenge you daily, and you'll always be learning something new about the job, the horses, and yourself."
What do you enjoy the most about working with Sallee?
 "I really enjoy the people I work with at Sallee. It's like one big family."
Just like with any OTR position, horse transport drivers will need to be comfortable spending extended time on the road. It's not unusual for drivers to be out on the road for over three weeks at a time, especially during peak racing season.  
Also, be prepared for a lot of east coast driving. Since the majority of horse racing takes place in the eastern half of the country, that's where horse transport truckers do the majority of their driving.  
How Much Do Horse Transport Truck Drivers Make?

Since horse transporting is a specialization in the trucking industry, these drivers tend to make more than your traditional OTR driver. The exact numbers depend on which company you drive for but can reach more than $100,000 annually. 
Why do horse transport drivers get paid so much? There are literally millions of dollars on the line when they get behind the wheel. This isn't cattle or sheep you'll be hauling. They're thoroughbred race horses. 
This is also why horse transporting is usually a team driver job. Since the cargo is so valuable, it's seen as a worthy investment to have an extra driver in the cab in case something goes wrong on the road or there's an issue with one of the horses.  
Another reason these jobs are done in teams is to beat tight deadlines. The FMCSA states that one truck driver can driver for a maximum of 11 hours before needing a ten-hour break. Driving in teams means that while one driver sleeps and gets their 10 hours in, the other can drive their 11. Aside from stopping for gas and other necessities, team drivers (in theory) never need to stop.  
Horse transport jobs pay well, and there's a good reason for that. It's for drivers who enjoy working with animals and love being out on the road more often than they're at home. If you check both of those boxes, then you might have a future as a horse transport driver.  

Drive My Way matches you with a job based on your personal preferences and qualifications.
Create a Free Profile
https://www.drivemyway.com/wp-content/uploads/2022/06/124181134_10160604929502995_1187917640731423255_n.jpg
1366
2048
Reid Smith
https://www.drivemyway.com/wp-content/uploads/2022/03/Untitled-1-3.png
Reid Smith
2022-06-10 14:03:57
2022-06-10 14:10:44
What's it Like Being a Horse Transport Truck Driver?