Today's Job of the Day comes to us from All Seasons Express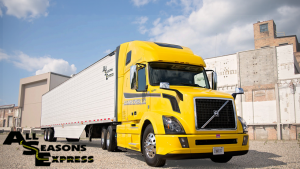 All Seasons Express is a private trucking company located on Market Street in Kalamazoo, Michigan. Their business is part of a family-owned company, and prides itself on their commitment to quality and excellent customer service.
All Seasons Express is hiring local CDL A drivers for mid-range and OTR routes. The driver will be running general freight, pharmaceutical loads, frozen loads, and seasonal flowers out of the Kalamazoo, MI hub. They offer group health insurance, 100% vested simple IRA with company match, free life insurance, weekly pay, paid vacation, and more.
All Seasons Express asks that applicants be at least 21 years old and have a CDL A license.

Interested in applying?
Learn more about the job requirements, benefits, pay and more.