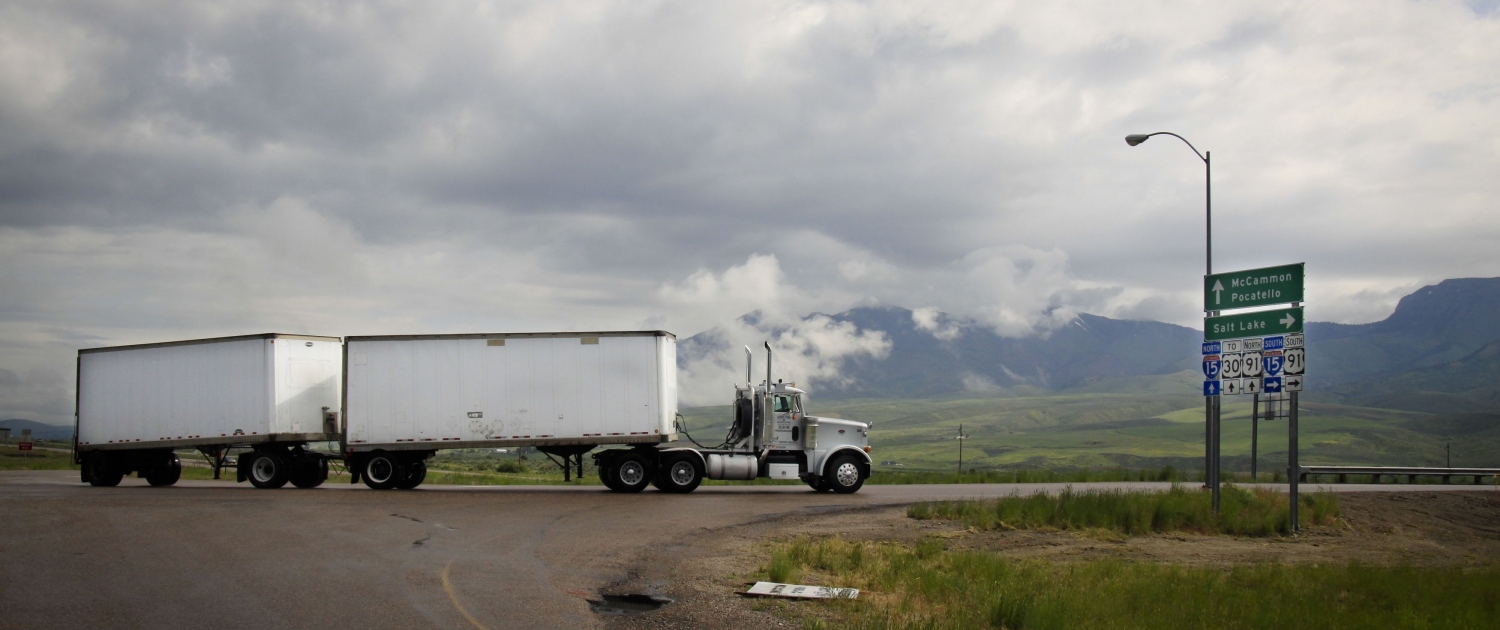 For CDL A truck drivers, there are dozens of skills and endorsements they can earn related to driving specialty trailers. Drivers with these skills and endorsements are highly sought after by trucking companies and tend to earn more than drivers without.  
One of the most common skills that drivers can learn is how to haul PUP trailers. Here's everything you need to know about PUP trailers, including the endorsement(s) needed to haul them, advice for new drivers hauling PUP trailers, and companies that hire these drivers.  
What is a PUP Trailer?
PUPs are small trailers, usually between 26 and 28 feet that can be attached in doubles or triples on the back of a cab.  
What are PUP Trailers used for?
There's a few different reasons that carriers use PUP trailers. The first being when they simply want to haul more without putting another truck on the road. PUPs are also used to haul multiple smaller loads that need to be dropped in different locations or cargo that needs to be separated from each other. 
Are There Different Types of PUP Trailers?
The most common types of PUP trailers are standard dry van 26′ or 28′. There are also specialized reefer PUPs as well, although these are less common. Aside from that, one of the most common types of PUP trailers are the ones used with dump trucks.
What Companies Hire PUP Drivers?
Large delivery and parcel companies like FedEx and UPS are the carriers who use PUPs the most. Aside from that, construction companies and building products carriers may also hire drivers to haul dump trucks with an added PUP on the back.  
Do I Need a Special Endorsement to Haul PUP Trailers?
If you're hauling two or three PUPs at the same time then yes, you will need your doubles and triples endorsement, sometimes known the "T" endorsement. The good news is that all you need to do to get your T endorsement is to pass a written test, no road or skills test required.  
There's a number of free sites out there that will provide practice materials for this test, but you may also be able to find them from your state's DMV/BMV as well.  
Is it hard to drive PUP trailers?
Most drivers experienced with hauling PUP trailers say that aside from backing them up, hauling doubles is not much different than hauling a standard 53′. It can be daunting for new drivers who are pulling PUPs for the first time, but it's more of a mental thing than anything. Once you get some miles under your belt, you'll be as comfortable with doubles as you are with a 53′. 
Triples present a much bigger challenge for drivers. The extra trailer creates more opportunities for issues to arise, especially when it comes to turning and maneuvering the trailers. This is why a lot of states don't even allow drivers to haul triples.  
What is Some Advice for Drivers Hauling PUP Trailers?
1. Be Diligent
 Since you'll be hauling an extra trailer (or two), be extra diligent in your pre-trip inspection. You now have double (or triple) the number of things to check with your trailers.  
2. Don't focus on the Wiggle
Another big piece of advice is to not constantly fixate on your back trailer while driving. It'll move or wiggle around a little bit, but that's normal. No need to overcorrect with your steering wheel. The worst thing you can do is pay so much attention to it that you're not looking at what's on the road in front of you. 
3. Avoid Backing Up
One thing to remember about PUPs is that they're extremely difficult to back up and something only experienced drivers should attempt. Even then, these experienced PUP drivers try to never get themselves into a situation where they would have to back up.  
The easier way is to break down each trailer and back them up each individually. If you do want to practice backing up PUPs, do it in a large, empty space where you can afford to make a mistake or two. 
Whether you're just starting your career in trucking, or you've been on the road for years, getting your "T" endorsement and learning how to haul PUP trailers is a great way to increase your value and earning potential as a truck driver.  

Drive My Way matches you with a job based on your preferences like pay, home time, touch level, and more.
https://www.drivemyway.com/wp-content/uploads/2022/09/1285131-scaled.jpg
1137
2048
Reid Smith
https://www.drivemyway.com/wp-content/uploads/2022/03/Untitled-1-3.png
Reid Smith
2022-09-13 15:27:37
2022-09-13 15:27:37
What to Know About PUP Hauling