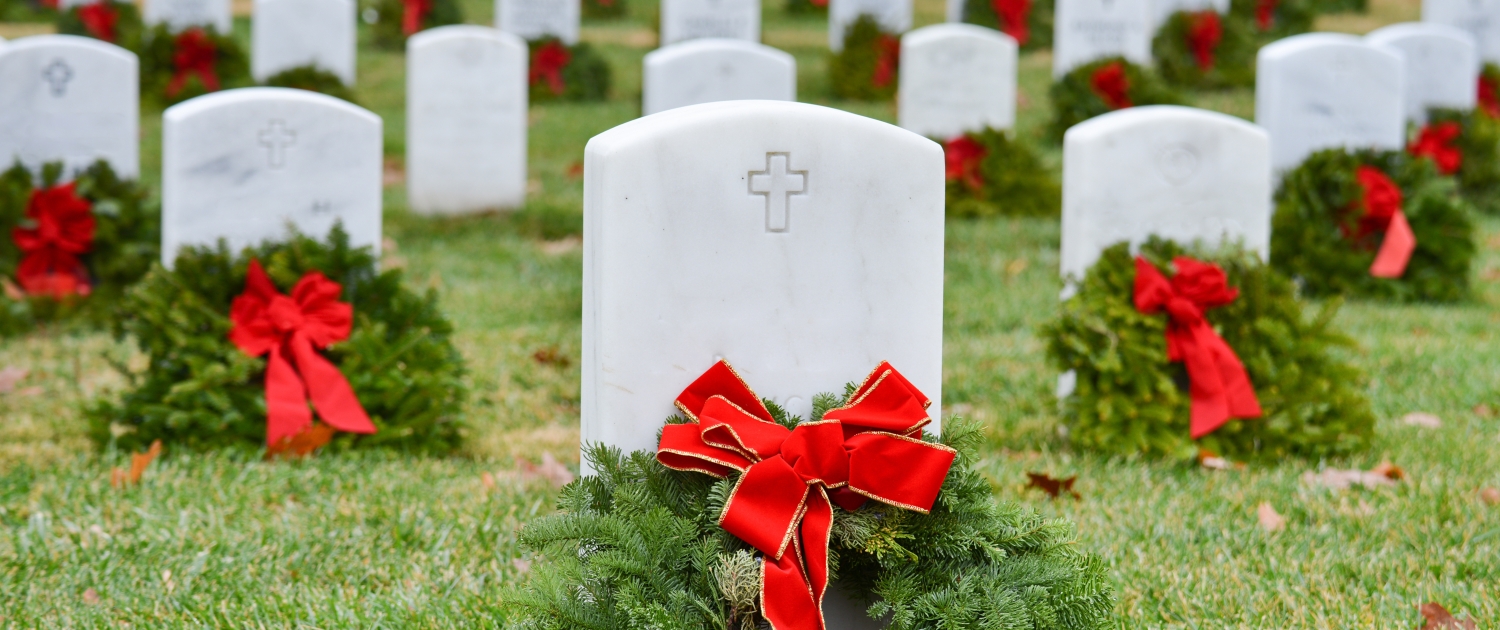 While we have Veterans Day to honor the living, and Memorial Day to remember the fallen, our service members shouldn't only be thought about twice a year. They sacrifice their comfort to ensure our freedom every day of the year, including during the holidays.  
That's why Wreaths Across America was founded. The organization makes it their mission to honor the service members who are across seas and remember those who are no longer with us by laying wreaths at their headstones during the holiday season.  
Here's what truck drivers should know about the time-honored tradition, including its history, and how they can get involved.  
What is Wreaths Across America?

Wreaths Across America describes their overall mission in three simple words, "Remember, Honor, and Teach." Remember our fallen U.S Veterans, honor those who have served, and teach your children the value of freedom."  
Each year, a day in December is set aside as Wreaths Across America day. This day is usually the second- or third-day Saturday of the month. On that day, the organization coordinates wreath-laying ceremonies at thousands of U.S cemeteries across all fifty states, including Arlington National Cemetery. 
What's the History of Wreaths Across America?

In 1992, after finding his company had a surplus of wreaths after the holiday season, Morrill Worcester, owner of the Worcester Wreath Company made a large donation of 5,000 wreaths to Arlington National Cemetery. Worcester continued making donations like this for the next 15 years, and it eventually caught on to the point that thousands of other people wanted to join in on the good cause.  
In 2007, Worcester officially founded Wreaths Across America, and the organization has been donating thousands of wreaths every year since. 
How can Truck Drivers Get Involved with Wreaths Across America?

While everybody can get involved with Wreaths Across America by donating a wreath, truck drivers are unique in their ability to help even more. Through their carrier, truck drivers can volunteer as drivers for Wreaths Across America, transporting wreaths to locations where their events are held.  
Drive My Way client, NFI is one of the carriers that has truck drivers who volunteer for Wreaths Across America during the holiday season.  
NFI driver and National Guardsman, Jason is one of these drivers. Here's what he had to say about his involvement with the organization, 
"I like that NFI really appreciates their drivers, just as much as the National Guard appreciated what I did for them. Like in the military, without your lower enlisted, you don't have a service. Here at NFI, if you don't have drivers, you're not going to have a company." 
Drivers who are interested in volunteering for Wreaths Across America should reach out to their carrier to see if they're able to donate their time for the cause.  
And while not all truck drivers may be able to drive for Wreaths Across America, that doesn't mean they can't still be involved. Truck drivers can always choose to sponsor one wreath or multiple wreaths.
They can dedicate their wreath to honoring a veteran who's still with us, in memory of a fallen hero, or choose to not dedicate their wreath, and instead remember all who have served.  
The organization also has an online shop where you can purchase clothes, branded items, and wreaths that you can hang on your own door.  

Drive My Way matches you with a job based on your preferences like pay, home time, touch level, and more.
https://www.drivemyway.com/wp-content/uploads/2022/12/AdobeStock_375397893-scaled.jpeg
1367
2048
Reid Smith
https://www.drivemyway.com/wp-content/uploads/2022/03/Untitled-1-3.png
Reid Smith
2022-12-16 15:06:56
2022-12-16 15:16:35
Wreaths Across America: What Truck Drivers Should Know About the Tradition