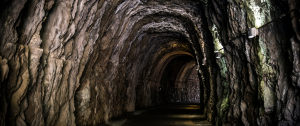 What's the most interesting place a job has taken you? Igloo City in Alaska? The deserts of the Southwest? The world's largest truck stop? For some truckers, the answer is easy: "The Caves" under Springfield, Missouri.  
The Caves, officially named Springfield Underground, is a 3.2 million square foot temperature and climate controlled warehouse located entirely in a former limestone mine. With over 3 miles of lit roadway, 224 dock doors, and immediate access to I-44 and US-65, a trip to The Caves is an exciting change of pace for any truck driver. 
So what's it like to drive in such a unique place? Keep reading to find out everything you need to know about Springfield's 'Caves'.  
A Brief History 
What initially began as a limestone quarry in 1946 was turned into a mine midway through the 1950s. The original Griesemer mine remained active until 2015, even after construction on the first underground warehouse began in 1960.  
The first warehouse was built through a partnership between the then-named Griesemer Stone Company and real estate investment firm Security Terminal. For the next five and a half decades, mining and warehouse construction continued to remove over 31 million tons of limestone, while building roads, over 3 miles of railway, and infrastructure that keeps the space at a constant 62 degrees.  
A 1994 merger of Griesemer Stone Company, Security Terminal, and General Warehouse Corporation saw the space united under one name: Springfield Underground. Since then, the operation has continued to grow, carving out more area each year to be offered as leasable space, free from exposure to outdoor elements. 
What Is It Like Underground?
For some drivers, it might be difficult to imagine what it's really like to drive into an underground warehouse to drop off freight. As subterranean warehouses become increasingly popular across the United States, it's important to understand the unique properties and benefits of places like Springfield Underground.  
One great way to see the inside of the Caves before signing on for a job is to watch online trucking content creators who record their trips to Springfield Underground. Popular creators such as Trucker G have uploaded detailed tours that show what it's like to deliver freight in the underground warehouse. 
TikTok is another option for quick videos that explore delivering freight and navigating the sometimes daunting tunnels of Springfield Underground!  
With clear ceiling heights of up to 30 feet and buildings ranging in size from 50,000-400,000 square feet, the Caves are far more spacious than some might think. Springfield Underground also offers two types of warehouse storage, dry and refrigerated. Refrigerated buildings range in temperatures from -20 to 55 degrees, while the thermal mass provided by the limestone combined with energy efficient building construction has resulted in customers' utility consumption decreasing by 30-50%.  
If you're worried about safety, Springfield Underground's round-the-clock on-site maintenance ensures that the space remains well lit, clean, and secure. With only two entrances, both requiring card controlled access, and sprinkler systems in every building and common space, Springfield Underground has all the up-to-date facilities of a modern warehouse.  
Over 400 drivers visit Springfield Underground daily, experiencing the unique world of subterranean trucking. Like ice road trucking, many truckers see driving on underground roads as an example of the explorative nature at the core of the truck driving industry.  
Have you ever driven in the Caves in Springfield? Be sure to reach out to us on social media so we can hear about your adventures, or learn about other exciting places that trucking has taken you. 
https://www.drivemyway.com/wp-content/uploads/2023/09/blog-photo-32.png
630
1500
Elijah Larson
https://www.drivemyway.com/wp-content/uploads/2022/03/Untitled-1-3.png
Elijah Larson
2023-09-21 14:10:32
2023-09-21 14:10:57
The Caves: What Is It Like Driving Underground?