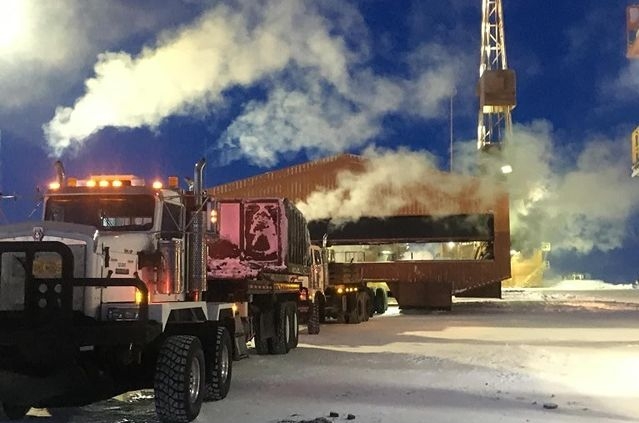 If you've heard of Ice Road Trucking, chances are you (like us!) got hooked on the History Channel's series, Ice Road Truckers. What a ride. The show built up a lot of interest in this niche trucking field with many facts and a dash of Hollywood magic on the way. 
As a little background, ice roads are exactly what they sound like. They are roads that are naturally or artificially built on frozen rivers, lakes, or layers of ice in the northernmost regions of the world. Not all roads that ice road truckers drive on are built on frozen water, but many of them are. In North America, ice road truckers work primarily in Alaska and northern Canada. The ice road season is short, and the roads are always heavily maintained during the season. Ice road drivers use these roads to deliver loads to places that only trucks can reach. 
Pros of Ice Road Trucking
Pay
One of the top reasons that ice road truckers get into the job is for the pay. The season is only a few months long, but the pay can be very good from a reputable company. Drivers report earning anywhere from $20,000 to $80,00 during the season.
Home Time 
Home time is another big draw for drivers considering taking a job on the ice roads. Because the season is so heavily dependent on the weather, most jobs run from about mid-January to mid-March. After those two months, drivers can decide how to spend the rest of their year. For some, that might mean time to look for other driving jobs in the off-season. Others might simply want more time at home to balance the time away during the season. 
Regulations to Protect Drivers
No one will deny that ice road trucking is a dangerous job. That said, there are many safety measures and regulations in place to protect drivers. Ice road trucking companies perform strict maintenance on the ice roads, regularly inspect the equipment, and carefully train drivers. The stakes are high when incidents occur, but employers are extremely attentive to driver safety. 
Cons of Ice Road Trucking
Job Risk
One of the biggest cons of ice road trucking is also one of the most obvious. The job comes with high levels of risk. All truck drivers have moderate levels of risk based on the amount of time they spend behind the wheel, but the bar is especially high for ice road drivers. Weather runs the show, and whiteouts, avalanches, and frigid temperatures can cause issues that range from moderately problematic to fatal. 
We asked Jesse, an Ice Road Trucker for Northern Energy Services in Deadhorse, Alaska, what the biggest mistake new ice road drivers make is. He said: 
"Being cocky. Thinking they know how to drive [a] truck cause they went to a school for it. Mostly wanting to prove themselves ya know. We haul 1.8 million pound loads on ice! You can't be messing around with thinking you know what you're doing."
Safety has to be a top concern for ice road drivers. Experienced drivers must be confident in their skills without underestimating the power of nature.
Dangerous Breakdowns
Because temperatures are so cold where ice road truckers run, breakdowns can be much more than a minor inconvenience. It can be very dangerous to be in the exposed weather conditions for any amount of time, and the stopped time can wreak havoc on your truck. A golden rule of ice road trucking? Do NOT turn off your engine. The cold can quickly compound any problems with your rig. Also, keep emergency and other supplies in your truck.  Now, many companies send trucks out in teams to keep drivers safe. 
Limited Communication
Unsurprisingly, cell service is very limited in the vast snowy north where ice road truckers haul. That means the drivers have little to no social communication or company contact while on the road. Drivers must be self-sufficient, independent, and confident in their ability to make repairs on the road.
Is Ice Road Trucking Worth It?
Ice road trucking isn't an easy job, and it's not uncommon for drivers to quit after their first run. On the other hand, for drivers who fall in love with ice road trucking, it's an experience unlike any other. For Jesse, there's nothing better.
"Knowing only a handful of people can do what we do is awesome! Seeing the northern lights dancing in the sky and working in -100 degree wind chill makes you feel like a tough guy. Best part is I get a lot of time off with my family. And my son calls me 'Ice Road Trucker Daddy'."
Ice road trucking isn't for everyone, but for some drivers, it's a perfect fit.
How To Get An Ice Road Trucking Job
The turnover in new drivers makes drivers with experience are particularly valuable to employers. Employers are looking for drivers who have a clean road record as well as experience driving in blizzard conditions. If that sounds like you, make sure you do your research, find a reputable company, and ask lots of questions before you sign a contract before you head north. 
There aren't nearly as many ice road trucking companies as there are for other trucking specialties. As a result, the employers and drivers who work these jobs tend to know each other. If you do get an ice road trucking job, you'll earn a place in part of a tight-knit network of elite drivers.

Find a Truck Driving Job
Drive My Way matches you with a CDL job based on your personal preferences and qualifications.
https://www.drivemyway.com/wp-content/uploads/2021/03/IRT-ft.1-e1615213324597.jpg
697
639
Alayna Klco
https://www.drivemyway.com/wp-content/uploads/2022/03/Untitled-1-3.png
Alayna Klco
2021-03-09 14:04:55
2021-03-09 14:04:55
Ice Road Trucking: Everything to Know