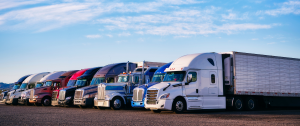 Do you have what it takes to compete with the best of the best?  
This year, truck drivers from across the nation will be headed to Columbus, OH, to battle it out for the title of 2023 Grand Champion in the American Trucking Associations' National Truck and Step Van Driving Championships.  
Every competitor must have first qualified at a state level championship, competing in one of nine classes of competition. In addition to winning at the state level, each contender must have been accident free for a year, inspiring safe driving practices among the tens of thousands of drivers vying for a spot annually.  
Over 500 attendees will crowd the Greater Columbus Convention Center from August 16-19 this year to watch the three-part championships. The competitors will undergo a written examination, a pre-trip inspection test, and, ultimately, a skills test. Although the 2023 Grand Champion is the most coveted title of the championship, there will also be awards for Professional Excellence, Vehicle Condition, and Rookie of the Year.  
A Long History of Roadeo
Originally called the National Truck Roadeo, the championships have been held since 1937. The first competition came just four years after the founding of the American Trucking Association in 1933. 
There have been many memorable moments over the years, and a long list of talented drivers who have competed, won, and logged millions of safe driving miles. Over the years, the National Truck and Step Van Driving Championships have provided an opportunity for countless truckers with diverse backgrounds and experience to display the skills, patience, and bravery necessary to succeed in this field.  
The 2022 Bendix Grand Champion, Roland Bolduc, is no exception to this great history of impressive drivers. With the 2017 Bendix Grand Champion title already under his belt, the FedEx Express driver aced all the tests last year competing in the Sleeper Berth Division.. 
Bolduc, who has more than 2.5 million safe driving miles in a career extending over four decades, was also one of four FedEx drivers that won four out of the nine classes of competition. This included Step Van Division (Gregory Long, FedEx Express), Tank Truck Division (Michael Flippin, FedEx Freight), and Straight Truck Division (Christopher Shaw, FedEx Express). 
Winners from the other five classes hailed from employers across the country, including Three-Axle Division (Wilbert Vano, XPO Logistics Inc.), Four-Axle Division (Martin McMahon, RIST Transport), Five-Axle Division (David Guinn, Publix Super Markets Inc.), Flatbed Division (Eric Ramsdell, Walmart Transportation LLC), and Twins Division (Damien Hebert, XPO Logistics Inc).  
The annual National Truck and Step Van Driving Championships aren't called the "Olympics of Trucking" for nothing. These competitions offer an opportunity for top talent from across the country to highlight the extensive knowledge and talent required to be a truck driver while entertaining hundreds of spectators.  
From winning state level competitions to competing nationally this year in Columbus, OH, every competitor taking part in the National Championships will help shed light on the hard work being achieved by every truck driver in America.  
What are your favorite memories of past championships? Will you be attending this year's? Be sure to connect with us on social media to share your stories and learn more about the National Truck and Step Van Driving Championships.  
https://www.drivemyway.com/wp-content/uploads/2023/08/blog-photo-17.png
630
1500
Elijah Larson
https://www.drivemyway.com/wp-content/uploads/2022/03/Untitled-1-3.png
Elijah Larson
2023-08-09 21:04:18
2023-08-09 21:04:38
2023 National Truck and Step Van Driving Championships