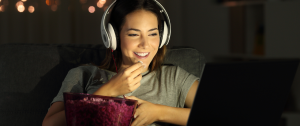 Trucking is one of the best known, but least understood, careers in America. Truck drivers have been essential to the economy and our daily life for over a century, and trucking movies are an interesting way to explore some different aspects of this important field.  
Trucking movies range from the hilarious, cowboy-types seen in the late 70s, trucker-mania phase to over-the-top horror brought to you by famous creators like Stephen King and Steven Spielberg. Documentaries have explored the serious sides of trucking, and box-office hits have brought romance, action, and mystery from behind the wheel to the big screen.  
Whether you're looking to relax on a thirty-four hour reset or need entertainment on a late night stop, these movies might just show you a side of trucking you've never seen. Keep reading to discover eight movies every trucker should watch.  
Convoy (1978) – Available for Streaming on Amazon Prime Video, Tubi  
Based on the 1975 classic country song of the same name, Convoy tells the story of truck driver Martin 'Rubber Duck' Penwald (Kris Kristofferson) and his feud with a corrupt sheriff (Ernest Borgnine). Arriving at the height of the CB radio/trucking mania that spread across America in the late 1970s, the movie is an exciting, action-packed ode to the outlaw trucking mentality and the bond formed between drivers. Now considered a classic, it might remind you of the plotline of a few other trucking films from the time. But hey, if it's not broken, why fix it?  
The Ice Road (2021) – Available for Streaming on Netflix 
Liam Neeson and Laurence Fishburne take the lead in this gripping thriller that follows a big-rig ice road driver on a seemingly impossible rescue mission to save a group of miners trapped underground in remote northern Canada. With a surprising amount of twists and fast-paced action, the movie is sure to be a hit with any truck driver or thrill seeker.  
Maximum Overdrive (1986) – Available for Rent on Amazon Prime Video 
Master of horror Stephen King's first (and only) time in the director's chair came with this over-the-top take on what could happen if technology came to life with a passion to kill. Although it is considered more of a horror-comedy by today's standards, there are plenty of gory scenes that  could make any truck owner's skin crawl. If homicidal rigs and possessed vending machines weren't enough for you, the movie was soundtracked entirely by AC/DC and contains the best-selling single "You Shook Me All Night Long." It can't get more 80s than that! 
Duel (1971) – Available for Rent on Amazon Prime Video 
Stephen King isn't the only big name in Hollywood to get his start with a truck-themed horror movie. Famous director Steven Spielberg's first film follows a businessman (Dennis Weaver) who suddenly finds himself being chased and terrorized by a mostly-unseen big rig driver. Considered one of the greatest films ever made for television, this fast paced and exciting thriller puts a new spin on the high speed chase genre.  
Sorcerer (1977) – Available for Rent on Amazon Prime Video 
While on paper this movie might seem like just another big budget film pushed out during the trucking craze, its story is as original and gripping as it was forty years ago. Director William Friedkin (The Exorcist, The French Connection) tells the stories of four criminals from across the globe who are given a second chance at freedom if they can successfully maneuver two trucks full of unstable dynamite (leaking nitroglycerin) up a long and rocky mountain road in order to plug an escalating oil refinery blaze in the Latin American jungle. This action-packed adventure film is guaranteed to keep you on the edge of your seat, and might just inspire you to say yes to carrying a future high-risk, high-reward freight.  
Big Rig (2007) – Available for Rent on Google Play or for Free in Full on YouTube 
Probably the most famous documentary focusing on long-haul truckers, this movie is also a study of everyday American life. The film features the stories of truck drivers from across the country who share their experiences and struggles. This documentary does a great job at showing the people behind the wheel of one of America's most important jobs, and it's sure to resonate with any viewer, truck driver or not.  
They Drive by Night (1940) – Available for Rent on Amazon Prime Video 
While a movie this old might not appeal to everyone, it's on this list for a reason. Not only does it star the talented Humphrey Bogart and Ann Sheridan, it's an exciting story about two brothers and a hard-talking waitress who come together to solve a murder and find romance on the open road. Full of thrills and an early look at the growing trucking industry, this movie is sure to stand out to any trucker movie fan.  
Smokey and the Bandit (1978) – Available for Streaming on Netflix 
What list could be complete without this trucker classic? The movie that kicked off the cultural craze for truckers and CB radio across the country, this Burt Reynolds hit follows two bootleggers smuggling Coors beer from Texarkana to Atlanta. Filled with high-speed chase scenes, hilarious run-ins with the law, and some iconic lines, Smokey and the Bandit is a classic for a reason.  
We love trucking movies and would love to hear about some of your favorites. Connect with us on social media to share your favorite trucking movies with us today!  
https://www.drivemyway.com/wp-content/uploads/2023/06/blog-photo-5.png
630
1500
Elijah Larson
https://www.drivemyway.com/wp-content/uploads/2022/03/Untitled-1-3.png
Elijah Larson
2023-06-28 16:34:05
2023-06-28 16:34:23
8 Movies Every Trucker Should Watch