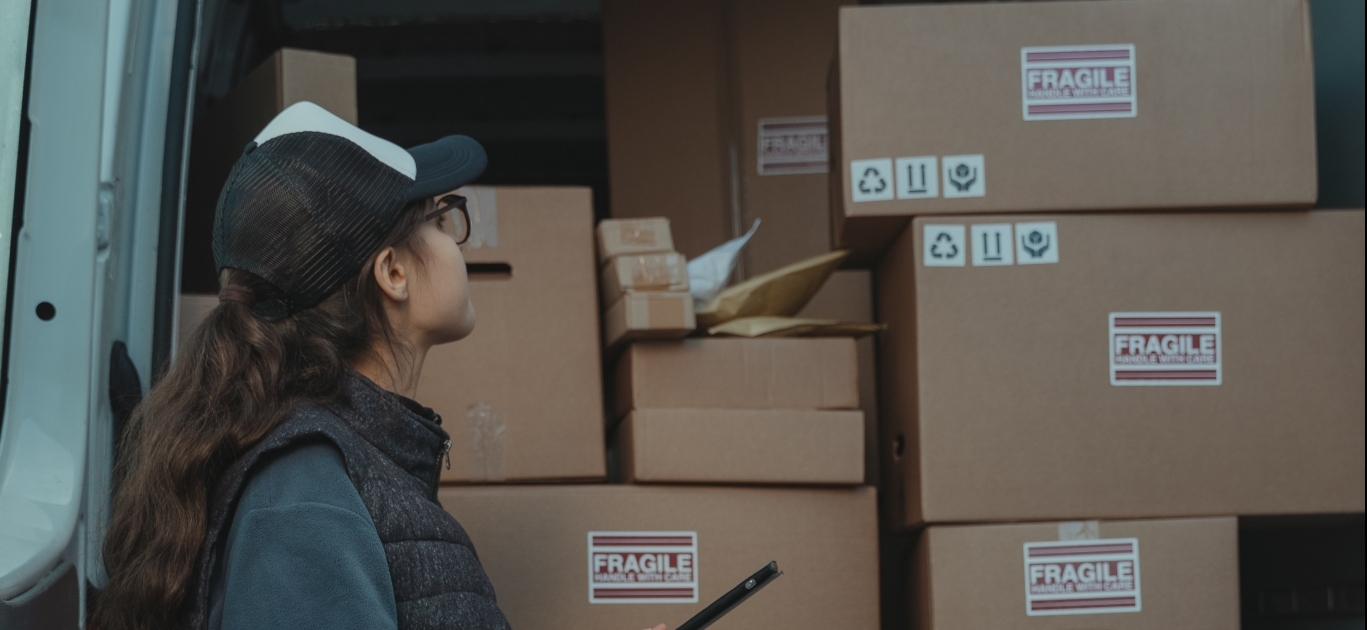 Final Mile Delivery has always been a part of the logistics chain, but thanks to large retailers like Amazon, it's become more and more important over the past ten years or so. Now, it's not just specialty products and large furniture getting delivered to front doors. Customers are relying on Final Mile Drivers to bring everything from fast food to lifesaving medication.  
With all this emphasis on the Final Mile, companies everywhere are looking to bring in more drivers to help with the influx of online orders that seem to be growing every day. For drivers considering Final Mile, here are the pros and cons of the position, the companies that hire Final Mile drivers, and the different types of Final Mile jobs available right now.   
What is Final Mile Driving?
Final Mile Driving is any time that all-important last step of the logistics chain is completed, when the product finally goes from the warehouse to the customer's front door. 
Final Mile Drivers can drive anything as large as a straight truck, down to their own personal vehicles. While we mostly think of Final Mile drivers as just delivering Amazon packages, there's way more types of Final Mile driving than just that.  
What Do You Need to be a Final Mile Driver?
Final Mile Drivers may or may not need to hold a CDL, depending on what vehicle they drive. Straight Truck drivers will need to hold their Class B CDL. If you're driving a sprinter van, you won't need a CDL, but a few states do require you to have a chauffeur license.  
Who Hires Final Mile Drivers?
Big Box Retailers
Amazon, Walmart, and Target are always looking for Final Mile drivers. In recent years, Amazon started contracting smaller delivery companies as DSPs (Delivery Services Partners) to get Prime orders out even faster and create a better delivery experience for the customer.  
Courier Services
Unlike retailers who stock, store and ship their products directly to consumers, courier servicers only transport cargo. While this cargo is usually consumer items, courier services are trusted with transporting VIP cargo, like hardcopy legal documents across town and medical specimens and samples between hospitals. Courier services will usually deliver within 50 miles and their cargo is 150 pounds or less. Think of them as standard parcel delivery.   
Expedited Freight Services
Expedited Freight Servicers specialize in same day or next day LTL solutions for businesses who need to get freight from point A to point B as fast as possible to avoid further delays and disruptions. Businesses typically utilize them when plan A for getting their freight to where it needs to go didn't work out. Expedited freight drivers travel within an entire region, and their cargo can be much larger than what a courier service will handle. 
Are There Different Types of Final Mile Services?
There are two main types of Final Mile services. The first is Ring & Run, which is exactly what it sounds like. You drop the package off at the customer's doorstep, give a ring or knock, and then you're off to the next stop. 
White Glove service, on the other hand, is all about going the extra mile for the customer. This is usually done when delivering large furniture, appliances or other heavy products that could be easily damaged in transit. Instead of ringing and running, the driver (or sometimes a technician) will come into the home or business and install or set up the product.  
We talked to Kevin, a driver with over 20 years of tractor-trailer experience. He currently works for Need It Now Delivers and shared what a typical day looks like as a Final Mile Driver. 
"A typical day will begin at 6:00 am. The drivers will gather, talk about routes and anything other drivers may need to know. We'll pre-trip our tractors and trailers and fuel the trucks if necessary. Generally, by 7:00-7:15 we're beginning our relays. We have anywhere between 2-10 pickups on our individual relay for the day, which may take between 3-10 hours to complete. It's a strictly no touch, drop and hook operation. Unless you find opening and closing swinging doors strenuous… It's not physically demanding. At the end of the relay, you return to the terminal, check the trailer in, dock it, post trip it, turn in your paperwork, and park. Then, it's homeward bound," shared Kevin. 
What are the Pros?
The biggest benefit to Final Mile driving is the home time and consistent shifts. While Final Mile drivers may work long hours, they're able to go home and sleep in their beds every night. Most smaller Final Mile companies won't deliver on Sundays, giving drivers one guaranteed day off a week. Another plus to this line of work is that many companies are looking for part-time drivers, making it ideal for students or people looking to pick up extra cash during the holidays. 
"An important aspect of this job that applicants and employees must realize is the teamwork. It's been my personal experience that there's a definite sense of everyone pulling on the same end of the proverbial rope. While there's a focus on the individual, there's an overall theme of being 'in this thing together' and that's not always the case at a lot of employers. Especially in the trucking business," shared Kevin.
For Wilson, who's been with Need It Now Delivers for over 6 years, the training opportunities the company provided were the biggest benefit. 
"The opportunity that Need It Now Delivers provided was a big reason I came on board. I was originally a box truck driver, but with the help of the company, I was able to move up to a CDL A Driver. Other perks are the great pay and friendly work environment," shared Wilson. 
What are the Cons?
A lot is expected of Final Mile drivers, especially those working for retailers like Amazon or Walmart. In addition to being the driver, they're also the deliverer, unloading the product and bringing it to the door. The deadlines are also very tight. Drivers are expected to deliver close to 300 packages per shift. While some might enjoy this fast-paced environment, it definitely isn't a role for everyone. 
Choosing the Final Mile Driver Job That's Right for You
When considering a job as a Final Mile driver, the most important thing to keep in mind is that there's a ton of variety in this position. Final Mile drivers are in heavy demand across a lot of industries, and it doesn't look like that's going to change anytime soon. You have a good chance of finding the perfect job to meet your current pay, schedule, and benefit needs, just like Kevin did. 
"I chose a position with Need It Now Delivers based on my discussions with the recruiters. After several conversations, I felt very comfortable choosing the Final Mile Driver position here over other opportunities I had open. The pay was right. The hours were right. It was the type of driving job I had been seeking. I was confident in my decision, and looking back, I know I made the right choice," shared Kevin. 

Find a Truck Driver Job
Drive My Way matches you with a job based on your personal preferences and qualifications.
https://www.drivemyway.com/wp-content/uploads/2021/10/pexels-tima-miroshnichenko-6169678-scaled-e1634663930789.jpg
210
140
Reid Smith
https://www.drivemyway.com/wp-content/uploads/2022/03/Untitled-1-3.png
Reid Smith
2021-10-18 10:00:11
2022-07-06 14:26:57
What to Know as a Final Mile Driver