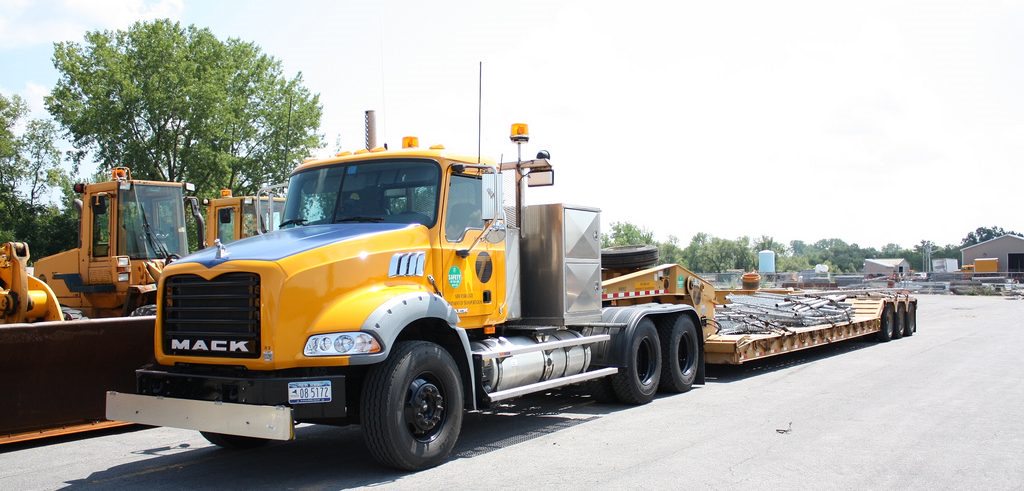 If you've ever been on the highway and seen an "Oversized Load" sign on the back of a trailer, chances are, that was a Lowboy truck. These trailers are the go-to choice for hauling cranes, bulldozers and any other large equipment or machinery from point A to B.  
Because of this, Lowboy Truck Drivers need to not only be excellent drivers, but skilled at the loading and securing of cargo. We talked with Angel, a Lowboy Driver with 10+ years of experience. 
"I got into low bedding about 10 years ago by leasing on with a buddy of mine. I had always wanted to get into it and boom! One day I finally had the opportunity. I'd recommend anyone looking to getting into it to start with a Landoll or step deck moving smaller pieces and crane parts. Learn how to get your axle weights right, have a long fifth wheel slide and a long neck on the trailer. Always double and triple check your securement, know the local and state laws where you're hauling, because they are all different. Other than all that, just take your time and be safe. If you're looking to getting into lowbed/lowboy work, good luck and take it slow," shared Angel.
What is a Lowboy Truck?
You may also hear the Lowboy truck referred to as a double drop, low loader, low-bed, or a float. While it goes by many names, the one unmistakable trait of a Lowboy is its two drops in deck height. The first is right behind the gooseneck and the second is right before the wheels. The reason? These drops let it carry loads up to 12 feet in height, which other trailers can't. This makes lowboys the preferred trailer for carrying large construction equipment and other oversized loads.  
The main difference in Lowboys is the neck that comes in two main types, gooseneck and fixed neck. Goosenecks offer a ramp for quick loading. This is a huge advantage since you won't need a crane to load cargo onto the ramp. Fixed necks are lighter, meaning you can carry a higher load capacity. The downside is they don't have a ramp, making them more difficult to load. Goosenecks can be either hydraulic or mechanical. Mechanical goosenecks are more difficult to operate, but cheaper and lighter. Hydraulics are the opposite; easier to operate, but more expensive.  
License Needed
Anyone planning on driving a Lowboy will need to have their CDL A and a doubles/triples endorsement depending on the state. Even after having these endorsements, it's likely that companies will choose their more experienced drivers with a Lowboy truck, due to the increased difficulty of operating it. In general, companies will want drivers to have at least two years of CDL A experience before driving a Lowboy.  
Safety Precautions
There are a few different things that make a Lowboy more difficult to operate than your standard trailer. Since Lowboys are mostly used for the transport of heavy construction equipment and oversized cargo, loading, securing, and unloading these can be a bear. Making sure you're loading and unloading the easiest way and fastening cargo at every point to prevent shifting takes an experienced and detailed-oriented driver. 
We talked to Jimmy, a Lowboy Driver out of Pennsylvania, and he shared his tips for drivers considering Lowboy work.  
"1. Your chains weigh as much in the well or a headache rack, as they do on the load. Don't be lazy, use your chains!

2. Watch your speed. You can go too slow, 100 times, but you'll only go too fast once.

3. Always ask yourself, "What's around that curve?" or "What's over the crest of that hill?", it could save your life or someone else's one day," shared Jimmy.
Lowboy Truck Drivers should also be checking their brakes more than they would with a standard trailer. This is to avoid accidents when carrying an oversized load. Due to the lowered deck on a Lowboy, there's also a possibility of bottoming out when driving across raised terrain like a speed bump.  
Work Environment and Schedule
Lowboy Truck Drivers need to be both experienced and comfortable driving in and around construction zones and high traffic areas. This means they should be prepared for everything that comes with that, including heavy machinery, loud noises, the elements, and more.  
Since most Lowboy Drivers are employed by construction companies, drivers can expect to work similar shifts to your typical construction workers. They should be prepared to work mornings, afternoons, and nights as needed. The good news is that Lowboy Truck Drivers are almost always local/regional, meaning they are home every night or at least several nights a week.  
Companies that Hire
Any construction company that uses bulldozers, cranes, or other oversized equipment will have Lowboy Drivers on their payroll. Companies that specialize in excavating and paving are two examples. Working for a heavy equipment rental and sales company is another option for prospective Lowboy Truck Drivers. These drivers haul construction equipment to and from work sites. 
Like with all other trucking jobs, there's a big need right now for Lowboy Truck Drivers. If you're an experienced and careful driver who doesn't mind working and driving through construction and road work zones, Lowboy driving might be the job for you.   

Find a Lowboy Truck Driver Job
Drive My Way matches you with a job based on your personal preferences and qualifications.
https://www.drivemyway.com/wp-content/uploads/2021/11/6ddba90b-c61b-4edd-91b7-11ccef320fb3.jpg
491
1024
Reid Smith
https://www.drivemyway.com/wp-content/uploads/2022/03/Untitled-1-3.png
Reid Smith
2021-11-01 13:06:16
2022-06-28 16:19:40
What to Know About Driving a Lowboy Truck