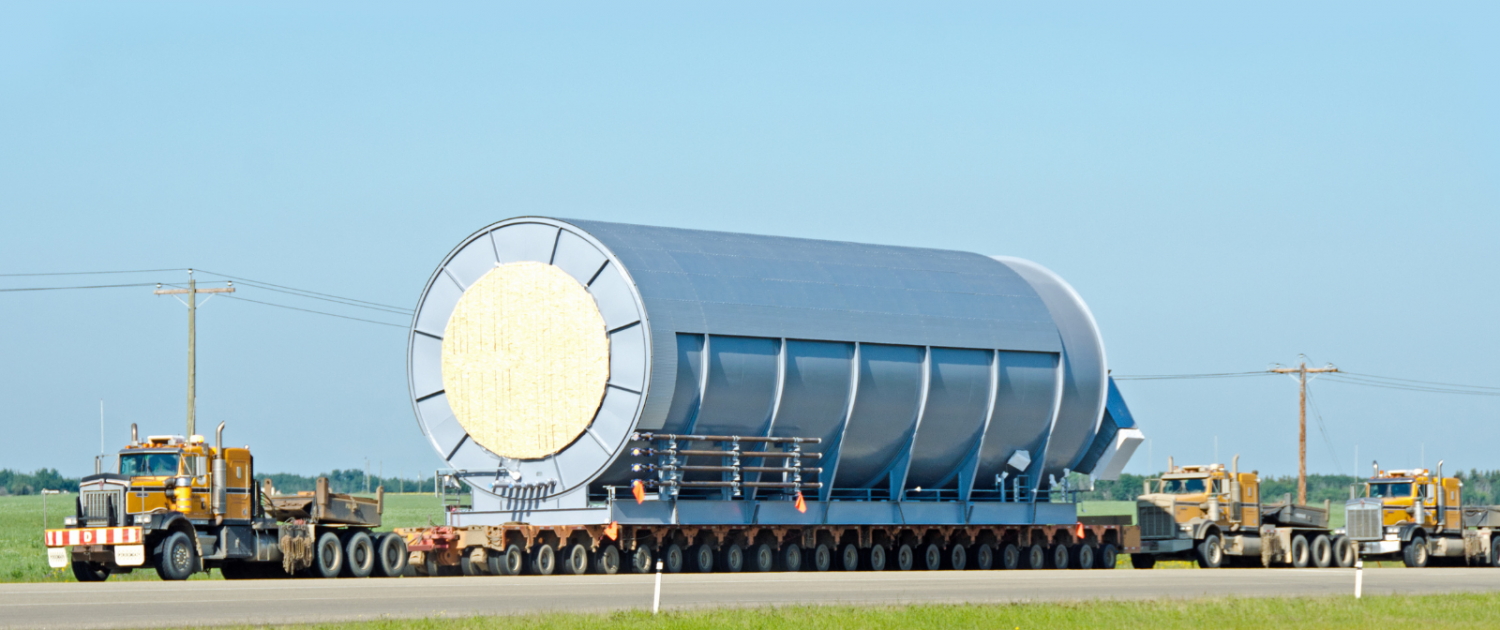 The exact dimensions of an over-dimensional load vary by state. In a nutshell, over-dimensional is exactly what it sounds like—any high, long, heavy, or wide load truck that is larger than typical dimensions. This usually includes trucks or loads taller than 13'6" (with some regional differences) and wider than 8'6". Length regulations change by state. Because there are different regulations based on where you're driving, it's important to check every state along your route before you start. If you're considering moving to over-dimensional loads for the next stage of your trucking career, here are some pros and cons to keep in mind. 
Pros
1. Pay and Job Security
Let's start with the big questions. Is there any real pay benefit to hauling more challenging loads? Actually, yes. Wide load truck drivers and other over-dimensional load haulers are pretty well paid for the position. You will be required to carry special permits, but even with that added expense, the finances work out well in your favor for over-dimensional loads. In addition, you won't be tied to a single piece of equipment. That significantly boosts job security. Being able to haul a variety of loads means you won't drive with your truck or your pockets empty.
We talked to Vic, a truck driver who has hauled oversized loads for 14 years. 
Vic was previously doing container work but chose to transition to oversized loads for the pay increase. He now makes significantly more money and has variety in his work daily. Vic shared "There's a lot more money in oversized loads. Every day is an adventure, and it's never boring."
Over-dimensional loads require a high level of responsibility and a bigger mental load, but there's also usually less physical work. That said, don't look for compensation as a good CPM. This type of run isn't about the miles—there's a lot of waiting involved. If you are not a patient driver and willing to wait for parking, room to fuel up, etc., this probably isn't the job for you. Because miles aren't the bottom line, typically pay will come as salary, percentage pay, or hourly wages. 
2. Show Your Skills
Hauling a wide load truck or other types of over-dimensional load is not usually a job for rookie drivers. There is a high level of skill required for this type of position because the cargo is often high value and oversized. Defensive driving is a must. As a result, many drivers have 10+ years of experience in other types of trucking. The vast majority of over-dimensional drivers have at least some flatbed trucking experience. Similarly, drivers with more endorsements are often hired more easily. Even if you don't need endorsements for a particular load, endorsements have a lot of value. They show that you are able to work a variety of assignments and, importantly, that you are a hard worker who prioritizes their career. 
There are no hard and fast rules about years of experience or endorsements, but in general, more is better in this case. Hauling over-dimensional freight can be a great job for drivers who want to incorporate a lot of the skills and experience they have gained along the way. 
3. Pilot Cars
Pilot cars (also known as escorts) are commercial passenger vehicles that drive alongside an oversized vehicle. They are required to have visible signage on the front and rear of their cars, and you've probably seen them on the road before. In tricky situations or routes, they can be a big help.
If you've never driven with a pilot car before, you should know that they won't necessarily join you for the whole trip. They may only accompany you through the most treacherous areas.
Escorts will either drive ahead of you as a scout or they will follow you to help ensure that other vehicles observe proper spacing. There are also specialized escorts called pole cars whose purpose is to check the height of any overhead obstacles to make sure that the truck and its load will be able to pass safely. Most escorts also carry safety equipment in case of a breakdown on the road.
Cons
1. Preplanning Is a Must
Preplanning is a standard part of any trucking job. But, many experienced drivers might not need to spend as much time preplanning as they once did. For a wide load truck or other over-dimensional loads, preplanning is not optional. You must know your route well before you set off. Are there any road obstacles to be aware of? When can you fuel? Will parking be readily available when you're scheduled to stop?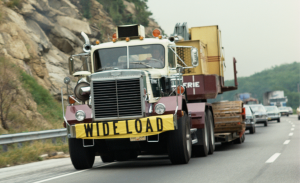 It's also a good idea to find out whether your pilot car knows the route well. Some escorts run the same lanes over and other. Others are simply hired and may be driving your route for the first time. There can also be different requirements in different states or regions. Make sure you know the regulations of each place you will travel through.
2. Route Requirements
As an over-dimensional load driver, you will usually have a set route with a specific delivery window. That can be a bit of a challenge, especially in bad weather. In an oversized flatbed, a big storm could have a big impact on your intended delivery time. Unfortunately, responsibility for an on time delivery ultimately falls on the driver. That's one reason why many oversized loads don't move during the night. 
Responsibility for an on time delivery ultimately falls on the driver.
With that being said, there are some loads that can be hauled at night as long as there is proper lighting. Ultimately, that decision depends on the state you are driving in. For most places in the United States, anything under 10' wide can run at night. On the flip side, superloads (the next size classification up) often haul only at night. Most of these giants require a police escort as well as pilot cars, and they prefer to run when the roads are emptiest.
Getting Started
There is no set way to become a wide load truck driver or to start hauling over-dimensional loads. Typically, employers look for flatbed experience, and drivers need to be comfortable tarping and strapping their load. There are some training programs through companies like ATS and Lonestar, but not all drivers start over-dimensional trucking through a formal program. Multi-axle trailers are one of the best ways to start moving toward the world of over-dimensional loads. 
There really is nothing like hauling over-dimensional loads, so do your research before you get started. It's not for everyone, but for patient, experienced drivers who want to put their skills to the test, driving a wide load truck or hauling over-dimensional loads is very rewarding.

Find a CDL Driving Job
We match you with a job based on your personal preferences and qualifications.
https://www.drivemyway.com/wp-content/uploads/2020/09/WP-Cover-Images-1.png
800
1600
Alayna Klco
https://www.drivemyway.com/wp-content/uploads/2022/03/Untitled-1-3.png
Alayna Klco
2020-09-15 12:37:19
2020-09-15 12:37:19
Pros and Cons of Driving a Wide Load Truck