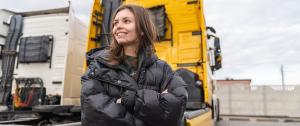 There's a reason there are blogs, social media pages, and nonprofit organizations dedicated to the safety of female truck drivers. While safety should be every driver's top priority, women in the trucking industry face unique discrimination and threats to their safety that are serious and continuing to evolve.  
Although women have been pioneers in the commercial driving industry since its origins in the early 1900s, they have had to fight for progress and recognition, as well as for support against safety threats. Modern times have seen improvements in equality behind the wheel, but many female truck drivers still feel like they're on their own to protect themselves at truck stops and in other industry settings. Keep reading if you're looking for necessary tips to avoid dangerous situations as a woman in the trucking business.  
Modern Times Means Modern Threats
Unfortunately, as technology and ideas continue to develop over time, so do the people who abuse them. One threat that is increasingly dangerous for women in the trucking industry is human trafficking.  
Truck stops are often safe, relaxing places that give all members of the trucking community a much needed recharge and refuel point. However, they can also be used as points to mark and target solo truck drivers as potential victims, and as stopping points for traffickers already transporting kidnapped women and children.  
Many veteran female truck drivers have potentially life saving tips to avoid dangerous situations that they use no matter where they are.
One driver, who will not be identified for her safety, was recently at a truck stop and noticed a zip tie had been put on her emergency air line while she was sleeping. This is a known signal for traffickers, along with tissues, paper, and other small, intentionally placed markers.  
If you encounter something like this, do not attempt to remove the marker on your own. Traffickers sometimes use drugs that can be absorbed through skin contact alone. In a situation like this, it is recommended to get to a safe location immediately and call the police. If this seems dramatic, consider that making a decision like this could be the difference between life or death.  
Tips and Tricks from Women in the Field 
Human trafficking is not the only safety threat that female truckers face. Here at Drive My Way, we have compiled advice that real women in the trucking industry have shared on social media and blogs for how they remain safe and comfortable while still getting the job done.  
Some of the most important and widely shared tips explain how a woman driving solo can make it appear as if she isn't alone. Making it appear as if you have a driving partner, husband, or even dog can be an easy and effective way to protect yourself at truck stops or in other uncomfortable situations.  
If someone asks, say your partner (or dog!) is sleeping in the cab. For this to be the most effective, keep the curtain drawn on your sleeper so no one looking in can tell. If you're feeling especially uncomfortable in a setting, you might want to pretend to have a conversation with whoever is "behind the curtain."

 

Wear a wedding ring.

 

Order two plates of food/drinks to bring back to the cab. 

 
When entering your cab, knock on the door as if someone is inside, then discreetly open the door yourself. 

 
Many women have also shared tips that they practice at all times to maintain their safety.  
Always check your trailer when you come back for anything out of the ordinary, and lock it before you leave, even if just fueling. 

 
Park as close to the truck stop as you can, and only in well lit areas. 

 

Limit your distractions when outside of your truck, so you can always be aware of your surroundings. This might mean staying off your phone and always being alert. 

 

Consider protection for yourself, such as bear/wasp spray, mace, or a

dog

(if your company allows it!)

 

Wear baggy clothing if you are especially uncomfortable in a setting. 

 
It is a sad reality that female truck drivers face threats to their safety across the country. However, it is important to be aware of this disparity to continue the fight for increased safety regulations and improvements to truck stop security. Women are a fast growing minority in the trucking industry, but there is still a long way to go.  
Are there any safety tips we missed? Which truck stops make you feel the most comfortable and safe? Please let us know on our social media so we can continue to share information that helps make the trucking industry equal for every driver.  
https://www.drivemyway.com/wp-content/uploads/2023/07/blog-photo-13-2.png
630
1500
Elijah Larson
https://www.drivemyway.com/wp-content/uploads/2022/03/Untitled-1-3.png
Elijah Larson
2023-07-27 16:05:18
2023-07-27 16:05:31
Must-Read Safety Advice for Every Female Truck Driver