Truck driving, like any profession, has risks. There are steps you can take to reduce the dangers of being a truck driver. The best rule of thumb? Think it through before you take action. Sounds simple, but taking an extra moment to slow down often makes a big difference. Even pausing for a few seconds can be enough to clear your head and really think through your choices. Here are the top 8 dangers of being a truck driver.
1. Driving tired or distracted
In 2007, the FMCSA did a study to determine causation of CDL Accidents. The number one cause? Driving tired or distracted. These two categories made up 40% of accidents that were labeled with a critical reason. Nearly half of the large truck accidents may have been preventable by extra sleep or improved focus. Need more convincing to get your sleep? As you've likely experienced, driving tired often leads to more distracted driving. Even 1 extra hour or a few 20 minute power naps can have a big impact on your ability to calmly make decisions on the road or to notice all the details of the road conditions. 
The FMCSA is exploring changes to HOS rules that would allow drivers flexibility to split their 10 hours in the sleeping berth however they want (within reason). The FMCSA is expected to share additional information as soon as the next six months.
As a driver, the best thing you can do is prioritize your sleep. Know your limits, and pull off when you need to. If you're feeling sleepy, drink water and take a short break if you can. A short slow down will let you keep driving safely in the long run and reduce one of the biggest dangers of being a truck driver.
2. Driving too fast for conditions
All professional drivers know that the weather and road conditions can have a big impact on your route. There is a lot of pressure to meet drop times and make the most of your miles. It's easy to tell yourself that going a little faster won't be a problem. It's much harder to convince yourself to slow down and carefully evaluate the conditions.
Road conditions are one of the dangers of being a truck driver that you can't control. But, you can control how you react.
More experience and time on the road will sharpen your ability to assess the roads and traffic to make safe driving decisions. 
3. Avoid unsafe areas at bad times and stay alert in truck yards and loading docks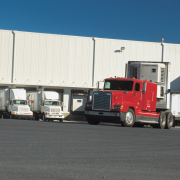 As any seasoned driver knows, there are some places you just don't want to visit outside of daylight hours. Of course, as a seasoned driver also knows, you don't always know where those areas are, especially when you're driving new routes. As a general rule, spending nights at the shipper or consignees lots is safer than most truck stops. If you are driving somewhere new or you don't know the area, call ahead by a few hours. The receivers can tell you if it's safe to park and sleep there or if it's a "daylight only" situation. If the area isn't safe enough for a sleep stop, calling ahead should give you enough time to find somewhere nearby that is safe to rest.
4. Always do a circle check
Circle checks are a small step that can save a lot of time and energy later. Sure, spending 20 minutes on a walk around every time might seem like a pain, but it's saving you much larger headaches down the road. A circle check is meant to inspect your rig for any damage or issues that need attention before departure. Want to make sure you're covering all the steps? Smart Trucking has a good basic guide to the D.O.T. pre-trip inspection to make sure you get where you need to go without any surprise maintenance issues. 
5. Use the buddy system for some repairs
Getting pinned under a rig is enough to give any cdl driver second thoughts about the job. Luckily, it's preventable.
If you have repairs to make under the trailer, bring a partner. They can immediately assist if something goes wrong.
Be particularly careful when pinning up. Now, there are some repairs you may feel comfortable taking on by yourself. A word to the wise. Unless you're a properly trained mechanic, don't mess with the brake chambers. Let a professional mechanic take care of any problems with the brake chambers, and you'll thank yourself later. 
6. Use caution on trailer decks and loads
It's tempting to climb up the back of your rig. You might just be going up for a quick fix after all. It's easy to use that logic, but the consequences can be terrible. One slip or fall from your rig can lead to serious injuries.
Instead, carry a ladder with you when possible or wait to climb until you have the proper equipment. Use extra caution on trailer decks and if you're standing on a load, especially for with a flatbed truck. 
7. Open your doors one at a time in case your load has shifted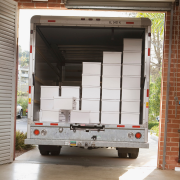 Even when you have checked your load before departure, things may shift while you're driving. The vast majority of the time, you could open both doors of your trailer at once and there would be no problem. But, Murphy's law says that the one time your load will shift is when you have the heaviest haul.
Save yourself the problem. Open doors one door at a time. That guarantees that your load won't fall out if things have shifted in transit.
8. Other drivers
In a perfect world, we would all be responsible for our own safe driving. Unfortunately, the world is far from perfect and we all share the road with a lot of other drivers.
Other drivers are one of the big dangers of being a truck driver. Be alert to your surroundings and the other vehicles around you.
As a professional driver, you're much more aware of passenger vehicles than most of them are of you. That said, these drivers (and other cdl drivers) can be a danger to you on the road. While there are likely more than a few driving tips you'd like to give to passenger vehicles on sharing the road, you have to watch out for yourself. Pay attention to your surroundings and leave plenty of space between vehicles. 
STAY UPDATED ON INDUSTRY TRENDS AND BEST PRACTICES
Join our community of over 150,000 drivers who receive our updates.


https://www.drivemyway.com/wp-content/uploads/2020/03/dangers-photo.png
1522
4000
Alayna Klco
https://www.drivemyway.com/wp-content/uploads/2022/03/Untitled-1-3.png
Alayna Klco
2020-03-13 13:37:30
2020-04-28 15:44:20
8 Dangers of Being a Truck Driver (And How to Avoid Them!)