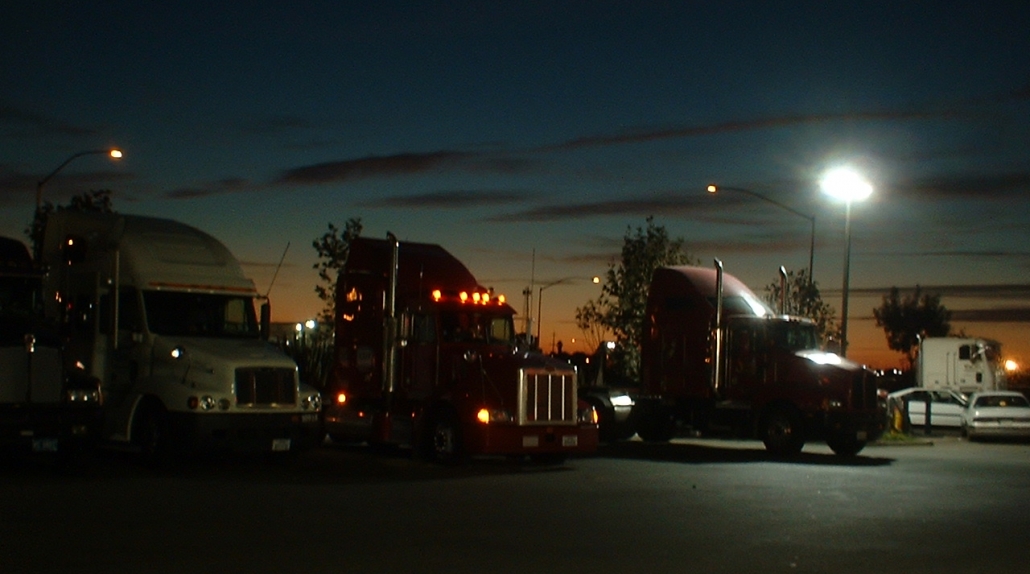 Truck stops can be a haven for truck drivers who spend long hours on the road. In addition to refueling yourself and the truck, you can get some rest and park your truck in a safe location. However, not all truck stops are equally safe for yourself or your rig. Even in the safest truck stops, there are risks of damage to your vehicle. Many truck accidents occur in truck stop parking lots, given the tight parking situations. There are also horror stories out there about drivers whose trucks have been broken into and who were put into dangerous situations. As an owner operator or company driver, you can guard your truck, and your safety, by following a few simple truck driver safety tips.
Safety at truck stops
There are many reasons why parking and safety are issues at truck stops. First of all, most trucks are now longer than the allotted parking space. This is because most current truck stops were built a few decades ago when the average truck was much shorter in length. The parking lots haven't grown in size along with the length of current trucks. There may also be unnecessary traffic at truck stops due to student drivers. Some CDL trainers bring student drivers to truck stops to practice their skills. Unfortunately for you, this means there's a higher chance that your rig could be damaged by a rookie who is just learning the ropes.
You may be tempted to overlook the chances of damage at truck stops but take a minute to think about the costs.
Even if you have an insurance deductible on your truck as an owner operator, it wouldn't cover all the damage. It doesn't take much by a careless rookie to rack up about $5,000 in damage. Add the costs of parts and labor, and the economic loss of downtime, and you're looking at several thousand in damage. Personal safety at truck stops is also of major concern. While you may think truck stops look safe enough, they can be targets for robberies in the middle of the night. Here are a few truck driver safety tips you can follow to protect yourself and the rig.
Truck safety
There are a few simple tips you can follow to reduce the chances of damage to your rig while parked at a truck stop. First, try parking at the very end of the parking area, away from the fuel island. You may have to try stopping earlier at night to find a good spot farther away. The reason is that there is less parking traffic that occurs here. The farther you are from moving trucks, the better. You might want to avoid the entire truck stop if they have a smaller parking lot. Second, pick a good parking spot.
Parking next to immovable objects like poles makes it less likely that another truck hits you on at least one side of your vehicle.
Avoid stopping next to trucks which had a shoddy parking job, or which seem like they're going to be leaving soon. In fact, don't park next to other trucks, or on the ends of rows, if you can avoid it. You may want to consider parking nose-in, so you can back out easily. Your truck won't be hit by anyone pulling in or out.
You'll want to take safety precautions for your cargo as well. Pad lock your loads, and consider using the seat belt to secure the door. You can run it through the door handle and fasten it. Lastly, consider investing in dash cams. These handy devices can record events in front of your truck. You'll be able to view this footage if someone hits your truck and takes off. In such an event, you want to protect your reputation as a driver with your carrier, and have clear evidence of what happened, even if the camera can't identify the culprit.
Personal safety
In addition to your rig, you need to take safety measures to protect yourself at truck stops. Not all truck stops are equally dangerous. You can save yourself some trouble by reading reviews ahead of time for which truck stops to avoid at all costs. Some truck stops have taken measures like security cameras to make their premises safer. Even at the best truck stops there is always a small chance of robberies or burglaries. The valuable cargo you're carrying can make you a prime target for such crime. Avoid talking about your freight when you're in public or within earshot of others. Don't forget your cargo is precious!
Women drivers in particular may have to think about safety concerns more than men, even though truck stops are taking measures to become more female-friendly.
If you're staying the night at truck stops, there are simple ways to make your area more secure. First, make sure to lock all doors to avoid break-ins. You may also want to pull the blinds over the front windshield so that your possessions aren't visible. Most company drivers inform their carriers exactly where they are staying for the night for documentation and record-keeping purposes. Finally, consider investing in more cameras. Dash cams can be placed aside from the front blinds so they can capture footage of any would-be perpetrators.
Keeping these truck driver safety tips in mind will help you secure yourself and your rig in truck stops across the country.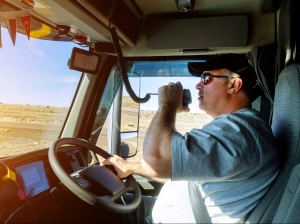 Find a CDL Driving Job
We match truck drivers and owner operators with jobs that fit your professional qualifications and personal preferences, including pay, home time, and more.
https://www.drivemyway.com/wp-content/uploads/2019/09/picspree-290964-e1567616411232.jpg
713
1280
Alayna Klco
https://www.drivemyway.com/wp-content/uploads/2022/03/Untitled-1-3.png
Alayna Klco
2019-09-04 23:56:08
2021-08-12 13:26:01
Truck Driver Safety Tips for Truck Stops