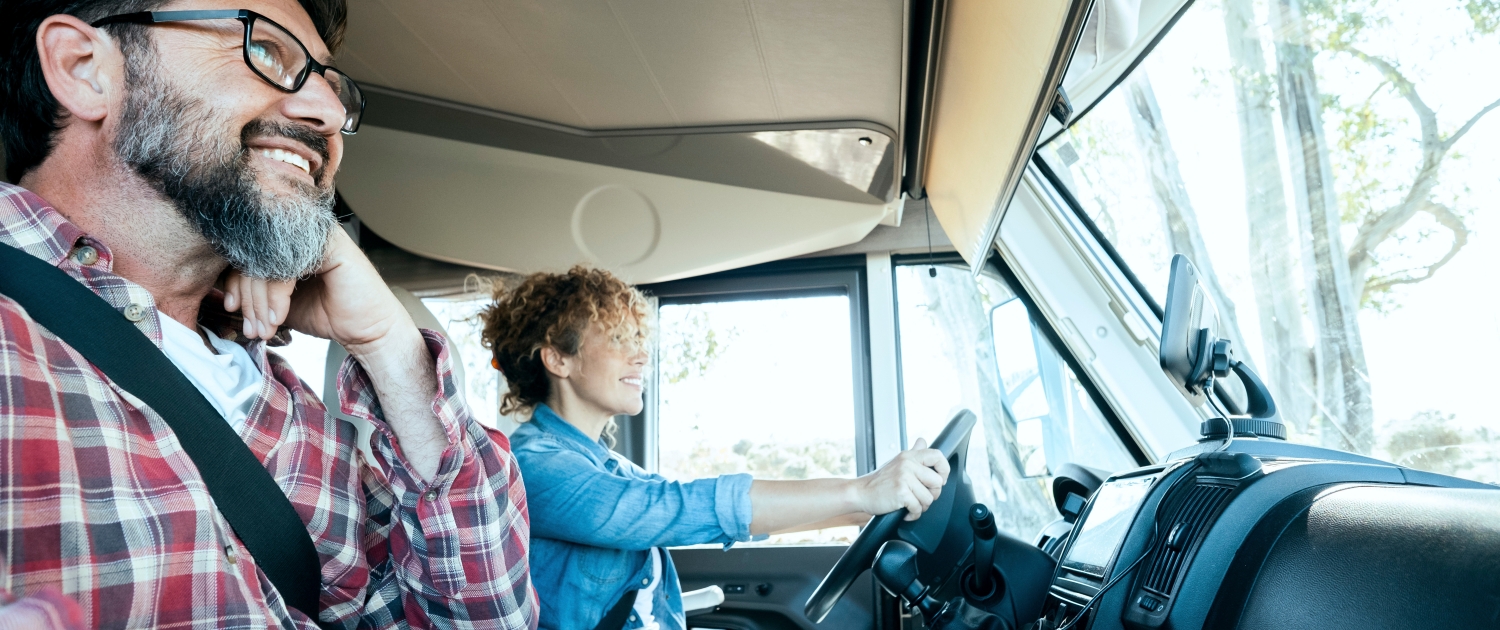 Truck driving is one of the few careers where you have the chance to work with your spouse. There are advantages and disadvantages to this option, and things you can do to make the experience more enjoyable. Here's what you need to know before taking the plunge into truck driving with your spouse. 
Advantages of Truck Driving with your Spouse
More Money
One of the big advantages of driving together is that you have the chance to earn more money. With the current HOS regulations, a solo driver can only drive for 11 hours a day before they need to take a 10-hour break. When there are two drivers in the cab, one can sleep while the other drives. This means that team drivers can cover about double the amount of ground in the same amount of time as solo drivers.  
Time Together
Another obvious advantage of truck driving with your spouse is the time you get to spend together. Truck driving is a unique profession which takes you away from home for long periods of time. OTR drivers have it particularly tough as they may see their family for only a few days before getting back on the road for weeks at a time. Being able to drive with your spouse eliminates this issue. 
Less Need for Home Time
Home time is a crucial factor that drivers consider before accepting job offers, as many drivers are looking to balance their work and home life. If you're truck driving with your spouse, this changes the equation entirely.  
You don't have to take a local or regional job that may be lower paying in order to have more time with your spouse. Instead of your trucking career being a detriment to your home life, it could provide the chance to reduce loneliness and renew your marriage. 
Tips for truck driving with your spouse

Depending on how you handle it, driving with your spouse can help you reconnect or can drive you further apart. Here are some tips for drivers who are considering hitting the road with their spouse. 
Have You Worked Together Before?
If you two have had any previous experience working together in other professions; what was that like? Did you find your previous experience to be positive?  
Even if you didn't work together, you may have worked on shared projects together at home. How is your work style while sharing domestic tasks? Did you have a big argument about which furniture to buy, or how to rearrange the kitchen? 
If you've had positive experiences while making joint decisions, it's a good indicator that you'll be comfortable working together behind the wheel. 
Make Alone Time a Priority
No matter how much two people love each other, they can get on each other's nerves if they spend too much time together, especially in cramped quarters. Make sure you both bring plenty of books, music, games, and other activities that can be used alone or in tandem.  
While your spouse is driving, you may want to be together part of the time, rest for another part, with the option to engage in a solo activity when needed. 
Still Take Time Off
Truck driving with your spouse doesn't have to be all work and no play! If you're lucky enough that the arrangement works for you, make sure to get the most out of it. There can still be date nights and lazy afternoons even though you aren't at home.  
Since you're already on the road, get out of the truck and make sure to explore. There are beautiful scenic spots all across the country, and new towns and cities to explore together. You can even document your travels through photography and scrapbooks or engage in a new hobby together.  
Also, don't forget the importance of days off. Just because you're together more often and get more rest, doesn't mean you don't need time away from work. 
We spoke with Angela, a CDL driver who drives with her husband, Larry. Angela told us about what it's like driving with your spouse, and what she likes the most and least about it. 
How long have you two been driving together?
Larry and I have been driving together for eight years.  
What do you like the most about driving together?
Our kids are all grown and, in the military, so now we can spend time together and see the country. 
What do you like the least?
For Larry, it's the lack of quality sleep as we sleep while the truck is moving. For me it is not seeing our grandkids enough. 
Do you have any advice for couples who are thinking about driving together?
Communication and patience are the keys. Being together 24/7 means you're going to have rough days. Give yourself space even if it means going into the back of the sleeper and closing the privacy curtains. Realize that there will be days when you'll be running so hard, you'll barely see each other. Just always keep the lines of communication open and you'll be fine. 
Any interesting stories from your time on the road together?
I've got a few different stories, but my favorite is about my parents. They retired a few years ago and got an RV to travel in. My mom and Dad have never seen me drive a semi before and my mom kept saying, "I know I'm going to a see you out there on the highway one day!" My dad would tell me that she would check every semi-truck that looked like ours. One day I'm driving down the road outside of Tucson and this white van is beside me. Suddenly, I noticed this lady hanging out the window waving at me. At first, I'm like "What is that crazy lady doing?" And then I saw that crazy lady was my mom! Luckily, we were seven miles from a rest area, so we all pulled over so they could get a tour of the truck. My dad for the first time in a long time was holding back tears because he was so proud of me. 
Overall, truck driving with your spouse can offer incredible advantages if you have the opportunity to do it. Being prepared for it and having the right perspective can make the difference between a rewarding experience or a frustrating one. 

Drive My Way matches you with a job based on your preferences like pay, home time, touch level, and more.
https://www.drivemyway.com/wp-content/uploads/2019/08/AdobeStock_551981482-scaled.jpeg
1365
2048
Reid Smith
https://www.drivemyway.com/wp-content/uploads/2022/03/Untitled-1-3.png
Reid Smith
2023-03-31 09:00:09
2023-03-07 22:17:35
Truck Driving with Your Spouse: What to Know