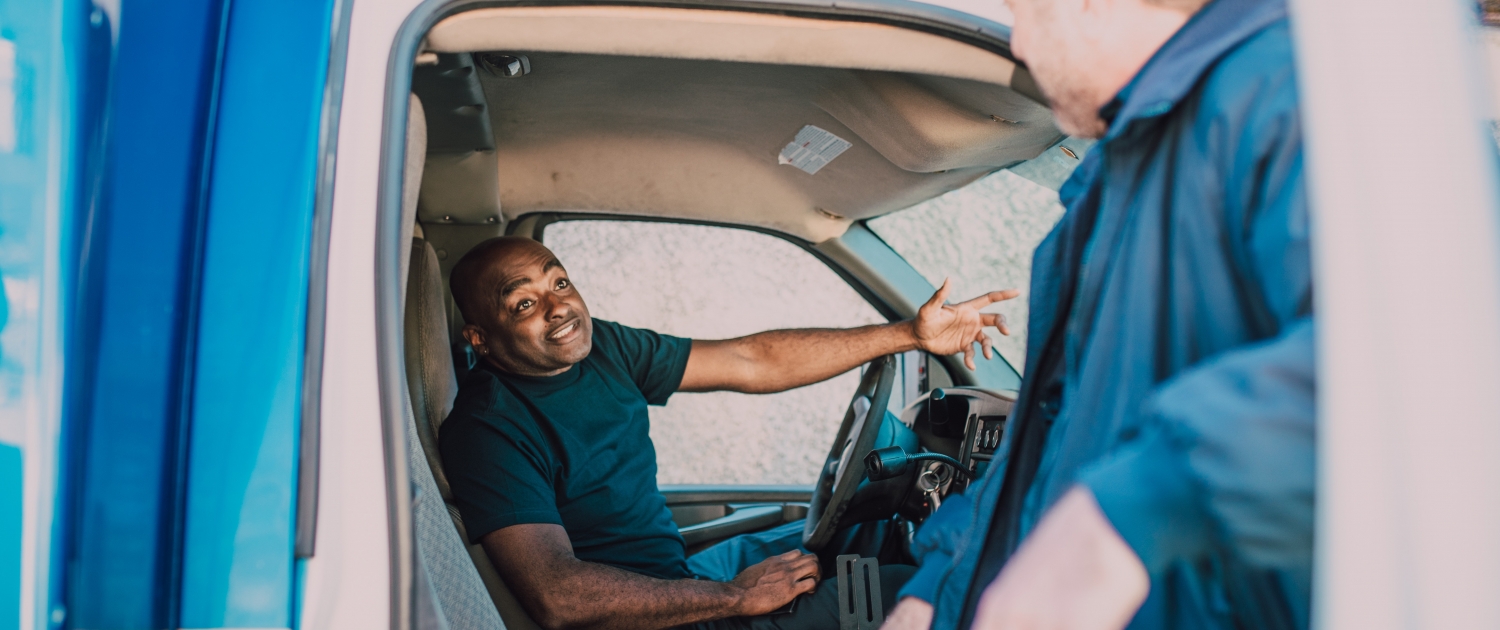 The truck driving community is very tight-knit. There are a number of unspoken rules and courtesies that truckers follow that aren't covered in CDL school. These unspoken truck driving rules are passed down from driver to driver and generation to generation. We talked to drivers who shared a few of the unspoken rules they've learned over the years.
Spacing and Passing
A common pain point for many truck drivers is when cars zoom around and cut them off with little regard for their safety. This behavior is frustrating, but it's much worse when it comes from a fellow truck driver.
Jerry shared, "If you have room, use it. Don't cut it short if you don't have to."
When passing another truck driver, make sure you have at least 200 feet of distance from the back of your trailer to the front of their cab. This may seem like too much space, but it's really not. Being any closer could mean that the driver behind you can't see their surroundings, which could be disastrous if they need to make a sudden stop.
Tina shared, "Drive as far ahead as you can, and don't wait until the last moment to make a move."
Don't Talk About Your Haul

This is a big one for many new drivers. While you may trust the person you're talking to, you never know who could be listening in, especially if you're stopped at a truck stop or gas station. Telling others about your haul is a high-risk, no-reward situation. You don't gain anything from telling someone your freight, and you stand to risk a whole lot by doing it.
This tip could seem a little too over-cautious, but there's good reason for it. According to the FBI, $139 million was reported stolen via cargo theft. The best way to avoid being part of this statistic is to keep what you're hauling close to the chest.
Get Your Gas and Go
This unspoken rule is more common courtesy than anything else. Don't be that driver that sits at the diesel pump for an extra 15 minutes while you grab your snacks and go to the bathroom.
Donald shared, "Be thoughtful of the other drivers and move off the fuel pumps. No parking at the pumps or area just ahead of the pumps. Just get your paperwork and park in the lot if you want to buy lunch, take a shower, sleep, etcetera."
While this is a problem for regular drivers as well, it's worse for truck drivers. Why? Drivers are on a tight schedule and need to get moving as quickly as possible. Your quick trip to grab candy and a drink could be costing a fellow driver money.
Follow Lot Courtesy
Lot courtesy goes a long way in trucking. Make sure you're driving carefully and following all posted speed limits in any lot, especially at night or when it's crowded. Also, make sure to respect drivers who may be sleeping.
Chuck shared, "Don't sit there side blinding a guy with your headlights when they're backing up."
The last thing they want to see is someone blasting their headlights while they're already parked in a space. And if you're planning to catch some shut eye, take a quick look and make sure you're not blocking anyone in who was there first.
Jerry shared, "Do not block someone in! If they were parked there before you got there, common sense should tell you that their break will be up before yours."
Honk!
Honking for kids has been a trucker tradition for generations. Kids love doing it, and it can make their day while on a long car trip with the family. And who knows, your honk could be inspiring the next generation of truck drivers!
These are just a few of the unspoken rules of trucking. There's countless more out there, and as the industry evolves, there will be new ones as well. What are some of the unspoken truck driving rules that we missed? Let us know in the comments.

Find a Truck Driver Job
Drive My Way matches you with a job based on your personal preferences and qualifications.
https://www.drivemyway.com/wp-content/uploads/2021/04/pexels-rodnae-productions-6519878-e1617628583976.jpg
3801
6181
Reid Smith
https://www.drivemyway.com/wp-content/uploads/2022/03/Untitled-1-3.png
Reid Smith
2021-11-29 19:17:02
2021-11-29 19:17:02
5 Unspoken Truck Driving Rules