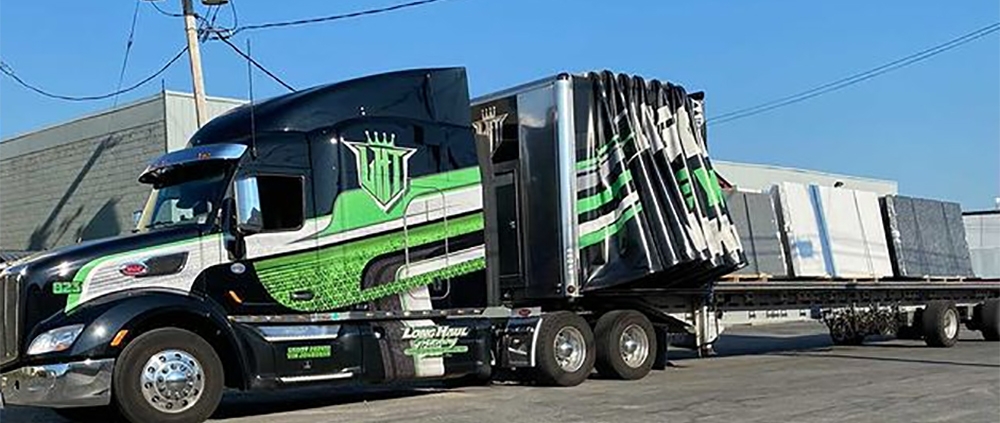 When you're trying to find which type of driving is right for you, there are plenty of options available. If you've decided that driving a flatbed truck is right for you, consider finding a Conestoga flatbed trucking job. There are plenty of pros about this type of driving, and many drivers make a great career of it. But there's also cons to consider as well. Let's take a look at some things to know about Conestoga flatbed trucking.
What is a Conestoga Flatbed Trailer?
Before we get to the pros and cons, let's talk about what a conestoga flatbed actually is. This type of modern-day trailer actually gets its name from the original Conestoga wagons that pioneers used to cross the United States in the 1800s.
A Conestoga trailer is one of the most versatile types of trailers available. It is a flatbed trailer, but with an accordion-style tarping system that simply pulls over the freight. So, you get the ease of freight loading that a flatbed provides with the load protection provided by the cover.
Very Versatile Freight Hauler
As mentioned earlier, these are very versatile. Because you're only working with a flatbed trailer, you can load freight from either side, or with a crane from above. You're not limited to loading and unloading from the back of the trailer. So, if there is a need to lift unusual-sized loads onto the trailer for shipping, a great option is to hire a Conestoga flatbed driver for the job.
Time-Efficient Transport
Because the drivers don't need to spend a lot of time manually tarping down loads or only loading from the back, drivers often find they're saving a lot of time on the road.
We talked to Adam, a Conestoga Flatbed Driver for his company Adam Graham Transport. He shared his perspective on the amount of time he saves and advice for other Conestoga flatbed truck drivers.
Adam shared "My biggest piece of advice is forget about the loads you might do once a year and think about the extra loads you will get from not having to waste time tarping or waiting in line to use a mandatory tarp station. The amount of money and time saved along with the safety aspect of not having to risk falling off of your trailer come out to be worth way more than the couple higher paying loads that you can get with your standard flatbed."
Conestoga drivers do not have to move around heavy tarps and tie down the cargo bit by bit. With the ease of pulling the folding cover over the whole load and snapping it into place, this gets the driver moving faster.
Pros and Cons from a Conestoga Driver
We talked to Kelsey, a Conestoga Flatbed Driver for Long Haul Trucking, and she gave us a few points to share with drivers considering this type of career. Check out what Kelsey has to say below:
Pros
Speed: "You can usually get in and out of places quicker than if you had to tarp. It is nice not having to worry about anything oversized. You always know your trailer clearance height."
Securement: "Being able to hop in back of your trailer and check all securement makes it a less stressful haul."
Freight: "Customers with special style freight seem to like them, so you can get some pretty neat freight just because of the trailer style."
Cons
Maintenance: "These trailers can be a pain if they aren't taken care of. I would recommend they do the research on the company, and make sure the company takes care of the equipment."
Tarp Wear and Tear: "These tarps can be torn easily and not many places in the country will work on them. For drivers just getting into it, be sure to be extra cautious."
So that's the basics of what you need to know about Conestoga flatbed trucking jobs. If you're looking for a job like the one that Kelsey describes, let us help you find a great fit that meets your needs. Click the link below and get started with a Drive My Way profile today!

Find a Flatbed Trucking Job
Drive My Way partners with trucking companies who are hiring flatbed truck drivers. Create a free driver profile to get matched to flatbed jobs.
https://www.drivemyway.com/wp-content/uploads/2020/12/conestoga-flatbed.jpg
661
1000
Alayna Klco
https://www.drivemyway.com/wp-content/uploads/2022/03/Untitled-1-3.png
Alayna Klco
2020-12-02 13:12:26
2022-07-06 14:40:20
Everything to Know About Conestoga Flatbed Trucking Jobs