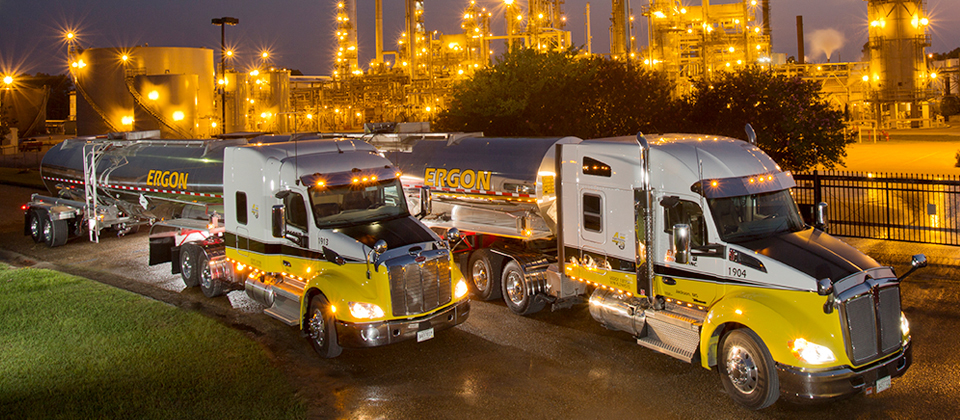 Today's job of the day comes from Ergon Trucking
Ergon Trucking is a company that works. We're family owned and operated, brought together more than six decades ago in the petroleum industry's service sectors. Driven by the values of hard work, customer service, reliable supply, and quality products, we've grown steadily and strategically over the years to become a well-diversified organization.
We specialize in the transport of products with rigorous handling requirements, sensitive temperature requirements, critical delivery timing, and crucial safety precautions. The company transports a diversity of products, including crude oil; lube oils; asphalt and emulsions; as well as specialty oils, caustics, and chemicals. Must have valid CDL with Tank and Hazmat endorsements to qualify.
We are a liquid tank carrier looking for OTR Hazmat/Tanker company drivers and independent contractors in multiple locations across the United States.
Company drivers are being hired in Houston, TX | Pittsburgh, PA | Baton Rouge, LA | Shreveport, LA | Marietta, OH | Sulphur, LA | Vicksburg, MS
Perks and Highlights:
401(k) and profit sharing
Paid holiday & vacation time (two weeks after first year)
Health and dental care
Uniforms provided
We offer excellent pay and benefits that include:
24% of load pay (75K – 90K annually)
Direct Deposit
$1,000 sign-on bonus
Safety bonus up to $2,000 per year
Home time – Out and back freight so we try to get you home weekly if possible but no guarantee depending on freight movement and time of year.
Late model Peterbilt and Kenworth with manual transmissions
Independent Contractors are being hired in Newell, WV | Vicksburg, MS | Shreveport, LA
Perks and Highlights:
100% of fuel surcharge
Fuel discounts with various vendors
Free truck washes
Frequent home time, don't require multiple weeks on the road
Electronic logging at no cost
Paid tolls and EZ Pass
Roadside assistance
Most loads are out and back with flexible schedules
We offer excellent pay and benefits that include:
$2,500 sign-on bonus
Up to $6,600 in Safety/Operations bonuses
Average 200-300k gross yearly
65% of load pay
85% of demurrage pay (paid weekly with loads)
Permits paid
Offer insurance options if needed

Interested in applying?
Learn more about the job requirements, benefits, pay and more.
https://www.drivemyway.com/wp-content/uploads/2020/11/JOTD-Graphic-12.jpg
628
1200
Kerry Marinchick
https://www.drivemyway.com/wp-content/uploads/2022/03/Untitled-1-3.png
Kerry Marinchick
2021-02-19 00:00:00
2021-02-19 14:13:23
Job of the Day: Ergon Trucking Inc