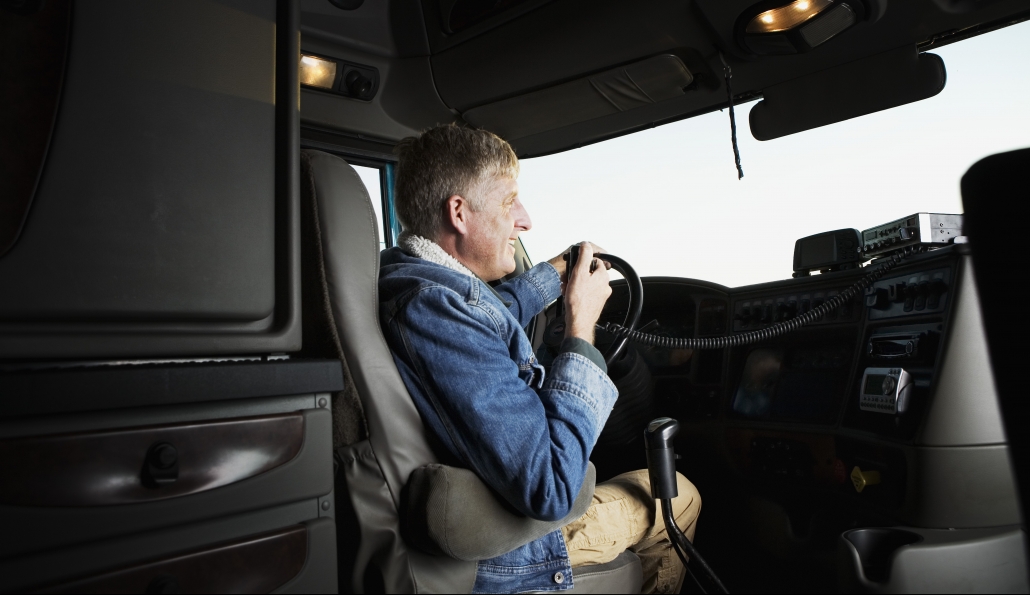 Whether you've recently begun your CDL trucking journey, or you've been driving for 20 years, you probably have the goal of being a great truck driver. Truckers enjoy the freedom and independence that the road brings, and along with it the opportunity to really succeed at the job and strive for improvement. Drivers know that nothing beats the pride and dignity that comes from a job well done, and the knowledge that you're doing honest work to provide for themselves and their families. Whether you're a rookie driver or a veteran, there's always room for improvement. Here are five secrets to becoming a great truck driver.
1. Safety
Veteran drivers all keep coming back to this point: safety is a driver's number one priority. Truck driving can be a dangerous job considering freight and road safety. Drivers are responsible for maintaining the safety of their freight, themselves, and other motorists on the road. Remember that other drivers may not be familiar with the challenges and differences in driving a truck, so you may have to go out of your way to ensure their safety as well. Safety also involves having a good mechanical aptitude in case you need to troubleshoot equipment issues while on the road.
Truly great drivers take their safety department's concerns seriously and do the due diligence to maintain safety.
Pre- and post-trip inspections form the backbone of safety, but it can and should go much beyond that. Maintaining a safe and accident-free record will also clear the path for continued professional success with that carrier. If you're hoping to switch to another carrier or become an owner-operator one day, a strong safety record will be essential.
2. Build relationships
Truck driving is often considered to be a solo gig- it's just you and the open road. But drivers are actually in constant communication with others, whether it is dispatchers, fleet managers, or other drivers. You'll also interact with shippers and receivers, and other reps from your own carrier or others.
The secret is that you need all these people in your corner to be successful.
So, a truly great truck driver seeks to build relationships with all these colleagues.
No man is an island, and no one does it alone, so seek to build a network of people you can communicate and work well with. Always strive to be courteous and respectful to everyone and try to be easy to work with. While trucking can be challenging, avoid projecting your negativity on colleagues since it may come back to bite you. In addition, great drivers need to avoid negativity from others impacting them, since the job is too important to be affected by someone's bad attitude.
3. Prioritize health
Great drivers are the ones who don't let the challenges of the job negatively impact their health and lifestyle. It's no secret that truck driving is considered an unhealthy profession. Between the schedule challenges and sitting behind the wheel for hours at a time, it can take a toll on the mind and body.
Great truck drivers know that these aren't excuses to neglect their mental and physical health.
Truck drivers can take simple measures to improve their diet and find time to exercise regularly. Some drivers cook in their cabins, or find small snacks to continually munch on, instead of relying on the greasy truck stop food. Similarly, finding about 15 minutes to exercise everyday can make a big difference in a truck driver's lifestyle. Not having access to a gym shouldn't be a problem since many exercises can be done in or around your truck, or in parking lots. While a trucker's schedule is rarely regular, making sure you get proper sleep will help keep you alert and allow the body to rest and mind to feel fresh. Great truck drivers are the ones who are happier because they found a way to prioritize health despite the obstacles.
4. Professional attitude
The difference between a good truck driver and a great truck driver probably boils down just to attitude. Companies are looking to hire drivers who have certain characteristics. They want to make sure drivers can be reliable, responsible, honest, and work hard.
However good a driver's record, credentials, or skills are, there's no substitute for good character.
Keeping this in mind, make sure you're always on time. Being reliable shows everyone that you take the scheduling seriously and can be depended on to make deliveries on time. Timeliness will also shine through when you're looking to get promotions or raises or looking for a better driving job elsewhere.
A professional attitude also means not complaining too much, or at least too loudly and to the wrong people. While trucking can be frustrating, complaining to your colleagues only reflects poorly on yourself instead of anyone else. Find a different outlet for complaining about work and maintain a professional attitude to distinguish yourself from other drivers. Working hard means sometimes taking the appealing runs or working extra when no one else can. Yes, it's a sacrifice and you can't do it every time. But whenever you do take that extra step, it will be noticed and will probably help in the future. Truck driving has become a more professional job, whether the general public realizes it or not. Treat yourself with respect and dignity, and maintain a professional attitude through all the troubles, and others will probably do the same.
5. Don't forget life outside of trucking
Here's a big secret to becoming a great truck driver: don't think of trucking all the time. Work-life balance is important in any profession, and it's no different for truck drivers.
In fact, there's more of a risk that trucking can become all-consuming, so it's important to know when to hit the metaphorical brakes and rest.
Great truck drivers make sure that they find enough time to spend with their families. Even while away from home, you can Skype with the kids or enjoy a virtual date night with your partner. Finding a job with good home time will allow you to take a break from trucking, refuel and energize, and then return.
Even while on the road, great truckers will find hobbies to engage in. Some truckers like photography or cooking. Others have gotten into reading or audiobooks. Some others are passionate about travel or exercise.
Whatever your passion is, don't leave it by the wayside just because you're a truck driver.
Engaging in hobbies and leisure will help ensure a sound body and mind for work-life balance. Not only will you reset and forget the stresses of the job, but you'll be better prepared for them when you get back to work. Remember: trucking isn't everything!

Find a CDL Driver Job
We match you with a job based on your personal preferences and qualifications.
https://www.drivemyway.com/wp-content/uploads/2019/07/picspree-1191825-e1562762496136.jpg
3241
5613
https://www.drivemyway.com/wp-content/uploads/2022/03/Untitled-1-3.png
2019-07-10 12:46:02
2021-08-12 17:53:00
5 Secrets to Becoming a Great Truck Driver