Truck drivers often struggle with maintaining healthy habits over the road because they often lead a sedentary lifestyle when driving long distances. Extended hours spent in the truck can often lead to higher levels of stress, dependence on stimulants to stay alert, less activity throughout the day, and lack of access to healthy food options. This tends to take a toll on drivers as they have a hard time overcoming these obstacles.
In order to provide drivers with access to healthy habits and tips for easily maintaining them, we put together this ultimate guide.
1. Exercise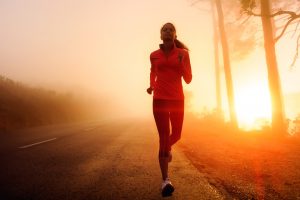 Truck drivers can work up to 11 hours per day, and this oftentimes leaves little room for breaks or exercise. When trying to find the time for exercising, drivers need activities that can be completed virtually anywhere, don't take a lot of time, and are effective.
The list of exercises below is an easy way to incorporate activity into a truck driver's day. Drivers can either choose a routine that doesn't require any equipment or weights, or they can choose a routine that involves using a pair of free weights.
Time Per Exercise
Using Only Your Body Weight
Or Using Free Weights
1 minute
Squats
Single Arm Row
REST FOR 30 SECONDS
1 minute
Push-Ups
Double Chest Press
REST FOR 30 SECONDS
1 minute
Lunges
Split Squat
REST FOR 30 SECONDS
1 minute
Tricep Dips
Bicep Curls
REST FOR 30 SECONDS
1 minute
Jumping Jacks
Lunges with Weights
REPEAT CYCLE THREE TIMES TO COMPLETE WORKOUT
When running through these exercises, it's recommended to do each exercise as many times as possible for 1 full minute, rest for 30 seconds in between each exercise, and then repeat the entire cycle of exercises 3 times. This will produce a high-intensity, full-body workout in 20 minutes, which can be repeated easily a few times per week.
Freightliner In-Cab Training System
Some truck drivers have even taken working out to the next level and have discovered a way to incorporate a complete gym in their truck by using the FIT System (Freightliner In-Cab Training System).
This exercise and flexibility system is designed to allow the driver to do an upper body, lower body, and cardiovascular workout in the comfort and safety of the cab of their truck. The system is easy to install and use in the truck and can also be brought inside to a home or hotel room.
2. Healthy Food Options
We've all heard that we need to eat more fruits and vegetables. But truckers often face difficulty when trying to access healthy food options, especially fresh produce. Planning ahead and packing food for the road is the best way to not settle for fast food when it comes time for the next meal.
Most drivers who bring food in their truck prepare ahead and pack meals that can be kept in a small cooler. Below are a few ideas for breakfast, lunch, and dinner that are easy for truck drivers to grab from their cooler, heat up in their microwave, and enjoy quickly on a break.
| | | |
| --- | --- | --- |
| Breakfast Ideas | Lunch Ideas | Dinner Ideas |
| Protein Smoothie or Protein Bar | Pasta Salad with Veggies | Chicken and Veggie Quesadillas |
| Oatmeal with Berries and Nuts | Turkey Burger | Grilled Chicken with a Potato Side |
| Toast with Peanut Butter | Grilled Chicken Salad | Chili |
In between meals, many truck drivers also look for snacks that will keep them full and alert while driving. Making good snacking choices can help drivers maintain energy longer and avoid consuming empty calories.
Before reaching for that next snack, be sure to check out the good and bad lists below:
Truckers Who Pack Also Save Money
In addition to having quick, easy access to healthier food options, drivers who pack their meals often also see increased financial savings from month to month. Research shows that the number one expense for drivers is food. By packing snacks and meals ahead of a drive, truckers be less inclined to stop at a fast-food restaurant, and will in turn, save cash and calories.
3. Sleep and Relax
After a long day spent driving, a good night's sleep is exactly what most truck drivers need. Not only does resting allow drivers to regain strength for the next day, but it also helps them unwind physically and mentally. However, being able to fully unwind after driving all day may sound easier than it is.
To help drivers change gears after a shift and start to relax, it's recommended to avoid eating at least three hours before bedtime, turn off electronics at least 30 minutes before sleeping, and even try meditating. These activities will allow the body to start melatonin production for a restful night's sleep.
When preparing for bedtime, consider the do and don't lists below:
| | |
| --- | --- |
| The Do List | The Don't List |
| Listen to relaxing music | Watch TV or videos |
| Meditate | Talk to others on the phone |
| Drink a glass of water or warm tea | Enjoy one last snack of the day |
| Read a book or magazine | Scroll through Facebook or other social apps |
| Dim the lights | Have bright lights on in the truck |
Benefits of Meditation for Truck Drivers
Meditation is proven to help drivers refocus after a long day and ensure a better night's sleep. Drivers can meditate easily by downloading an app such as Headspace or Calm, or they can practice the same meditation techniques without needing any technology. In order to get started, drivers can sit in a chair or in their truck, and place their feet flat on the floor. They can then place their palms face down on their lap, closing their eyes. Then, they can breathe slowly and deeply for 10-15 minutes, trying to keep their mind blank.
Taking an extra 10 minutes each morning or evening to unwind can be extremely beneficial for a driver's mental and emotional well-being, especially after a long day on the road.
We hope this ultimate guide will help truck drivers learn and maintain these three healthy habits over the road!

Want to download the guide to reference later?
Provide your contact information, and we'll send you it.
https://www.drivemyway.com/wp-content/uploads/2019/01/social-mockup.png
628
1200
Alayna Klco
https://www.drivemyway.com/wp-content/uploads/2022/03/Untitled-1-3.png
Alayna Klco
2019-01-21 00:00:00
2022-01-19 12:33:39
Ultimate Guide for Truck Drivers to Maintain 3 Healthy Habits Over the Road