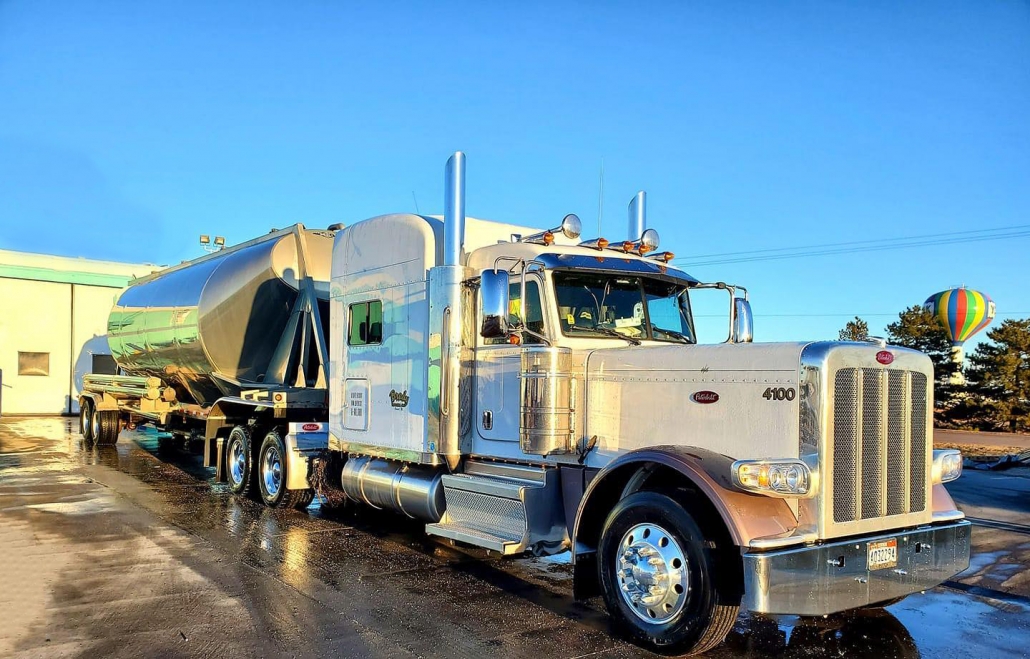 Today's Job of the Day is from Brady Trucking
The best trucks for Over the Road need the best drivers. Brady Trucking needs YOU. We believe every Driver should enjoy a healthy work-life balance, so we offer you the kind of income, benefits and home time that will take care of you and your family. Come and see what Brady Trucking has to offer CDL Truck Drivers and your families.

Brady Trucking, Inc. is seeking Class A CDL Drivers to safely transport dry bulk commodities (no endorsement necessary) tankers and some liquid food grade (tanker endorsement required) primarily through the Midwest and South Central regions.
In this position, you will be:
Delivering industrial, commercial, construction and agricultural commodities
Pulling hoses and pumping product utilizing a pneumatic (air) compressor
Climbing onto trucks and lifting equipment
Why Choose Brady Trucking?
You are a mature and independent trucker and we will treat you that way
Driver centric company "built by truckers, for truckers"
Freedom to choose routes and the home time you need
2019-20 18-speed Peterbilt with state-of-the-art technology and amenities
Exceptional compensation and benefits package
Travel the country while enjoying a job you love
Brady Trucking is hiring CDL A OTR Liquid/Dry Bulk Driver in the South Central and Midwest United States.
Compensation & Benefits
CDL Drivers are paid consistent CPM for loaded and empty miles (paid for all of your miles!)
Drivers paid up to $0.50 per mile based off experience
$70,000 – $75,000 annual average for year round work
$3,000 Sign-On Bonus
$2,000 Driver Referral Bonus
Average Weekly Miles: 2,500 – 3,000
Paid 3-4 day orientation ($200 per day), which generally starts on Tuesdays.  Hotel accommodations are Sunday night through the end of orientation if you are traveling a long distance.
Their terminals offer showers, laundry facilities, a driver lounge, and a kitchenette (at most locations) for your everyday needs.
Great company benefits including:

Medical, Dental, & Vision Insurance available after 60 days
Life Insurance
401(k) with employer match
HSA with employer match
Routes & Schedule
Typical Driver gets home every 2 – 4 weeks, 1-1/2 days home for every week worked with some flexibility built in for your individual needs.
Drivers receive their dispatch and make their own schedules and route as long as they are safely on time.
Routes are primarily through the Midwest, South, and Southeast regions.
For Drivers seeking more adventure, there are also options available that include all 48 states and into Canada
Minimal night driving required
Take the truck home program
Equipment
Beautiful 18-speed Peterbilts (2019 or newer. See our trucks in action on Brady Trucking's social media!)
Equipped with large sleeper, refrigerator, and SiriusXM radio
Inward and outward facing cameras (triggered strictly by an event)
Governed speed at 68 mph
Qualifications
Must be at least 21 years of age
Must have a minimum of one (1) year safe tractor-trailer experience
Need to have experience driving a manual transmission
Must have a clean driving record
Must have no violent, sex or theft Felonies in the last 7 years. 7 – 10 years is subject to review.
Midwest drivers must live within IN, IL, MO, OH, IA
South Central drivers must live within KY, TN, MS, AL, AR, LA, GA, FL
"Built by truckers, for truckers" means that we're all about Drivers.  Managers and Executives are former Truckers.  We've been in a truck and understand the Truck Driver's lifestyle – time away from home, family needs, life on the road.
We offer top-of-market pay, beautiful Peterbilt equipment, state-of-the-art technology & tools, recognition for your hard work, and "The Extra Mile!"  Our augmented Driver benefits package of extras provide holistic financial, health, and wellness programs to you and your family.  Come join the Brady Family today!

Join the Brady Trucking Team!
Brady Trucking is hiring CDL A OTR Liquid/Dry Bulk Drivers in the South Central and Midwest. Join the team!
https://www.drivemyway.com/wp-content/uploads/2021/01/JOTD-Graphic.jpg
628
1200
Alayna Klco
https://www.drivemyway.com/wp-content/uploads/2022/03/Untitled-1-3.png
Alayna Klco
2021-01-04 00:21:15
2021-01-22 13:12:34
Job of the Day: Brady Trucking