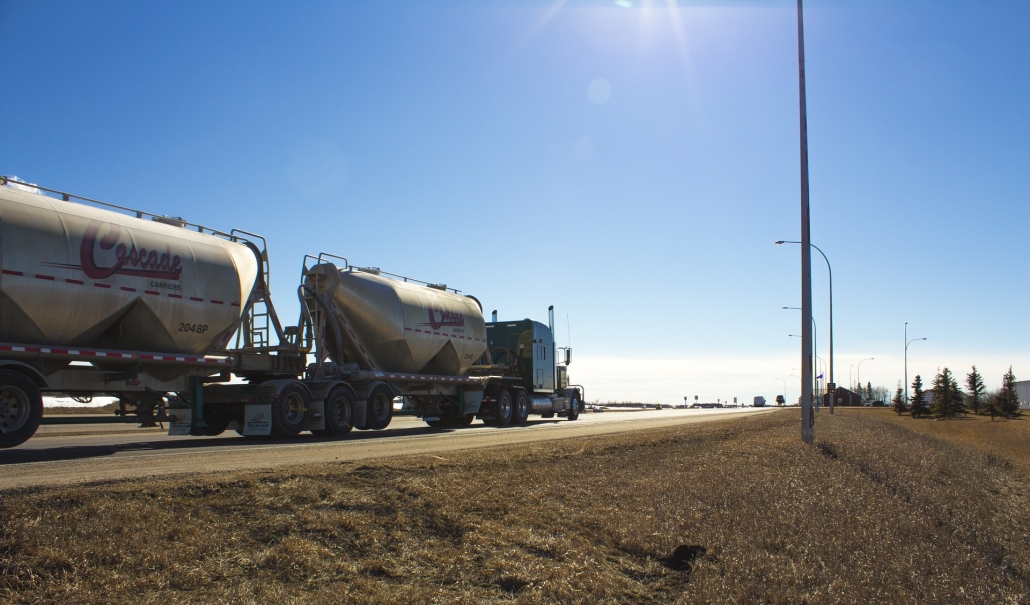 There's plenty of options to choose from when you're deciding which type of truck driving job is right for you. Many drivers look to get started driving some type of tanker trucks. But what about a dry bulk tank driver? Here we'll take a look at the pros and cons of what you need to know about dry bulk tank trucking.
What are dry bulk tanker trucks?
Dry bulk tanks are pneumatic cylinders, which sit upon a row of cone-shaped hoppers. The freight is loaded from the top of the tank, and exits from the bottom. This configuration releases the freight from the bottom into the hoses that will deliver the product to the customer. The contents pass from the cylinder, through the valves, and are then suctioned or blown out from the tank to the customer's container.
The materials hauled can be anything from sand, powders and grains, to plastic pellets used to make your coffee pods or gaming devices. Because the materials vary so much, so do their weights. Dense powders weigh significantly more by volume than airy pellets. So careful consideration needs to be paid to weight. And keeping the loads within the weight limits set by the DOT.
Pros
1. Good Pay
These trucks are for carrying specialty freight that can't be shipped any other way. The materials need to move from point A to point B, but unlike other trailer types where freight types can be mixed to fill up a truck to capacity, these can only haul one thing, in loose bulk. So, these drivers can only carry one thing at a time. And the cost to clean the tank out after a haul is usually built-in to the pricing.
2. Loading Using Gravity
Loading in the freight is aided by gravity. Once the truck arrives for pickup, the driver pulls up to the chute and then the load drops into the tank and gravity does most of the work. The driver then needs to be sure the tops are secure, and the load is settled. Then they can get moving on their way down the road. Instead of loading and a balancing an entire trailer full of pallets or containers, this can save some time in any trucker's day.
3. Consistent Home Time for Most Positions
Many of these runs are regional and can result in more home time for the trucker. Though it's a pretty tall order to guarantee a steady 9:00 AM to 5:00 PM schedule, drivers might be able to get pretty close to that with this type of trucking job.
We talked to Vincent, a Dry Bulk Truck Driver for Transport Elz, and he shared his feedback:
"I've been doing this job for about 6 months. We transport cement powder. These are a very nice transport. In addition, we are hardly ever dirty except if we stop for some reason. The only weak point in my opinion is that there are no schedules. We often start at night but never at the same time."
For drivers that enjoy work-life balance with home time every week, driving a dry bulk tanker might be a good choice.
Cons
1. Expensive Equipment
When compared to a dry van trailer, a dry bulk tank trailer can be quite expensive. Due to the nature of the cargo being hauled, the systems in place on the trailers to load in and load out the materials add to the complexity of the equipment. These hoses, blowers, vacuums, and siphons make for a much higher price tag due to the specialization needed.
2. Loads Can Shift
These tankers have high centers of gravity, and while driving, the loads can shift. So extra care must be taken when driving this type of freight. For a newer driver, this takes some practice and skill-building for the long haul.
3. Cleaning Requirements
Since the materials hauled in these trailers are not in any protective packaging, there is a need to completely clean everything out between runs. If you're hauling pellets, sand, or some other type of loose material, residue on the inside of the trailer can be a big problem with the new load. Imagine hauling white plastic pellets for a job, but somehow that load got contaminated with something blue from the last load. In the eyes of the customer, the entire load might be unusable.
Advice from the Road
We talked to Eno Inc., a dry bulk family-owned transportation company providing services to the construction industry in both Florida and Illinois. They shared,
"Honestly I think the biggest con [of dry bulk] is the hours. What we do isn't hard, but the hours are long. We run everything within DOT regulations, but the hours are still get to the guys. I think we've had more turnover because of the hours than any other issue."
If you're a new driver determining the best route to take in your trucking career, this should give you enough information about driving dry bulk tanks to get you started. If you do decide this is the type of driving you'd like to do, we can help you find a great opportunity.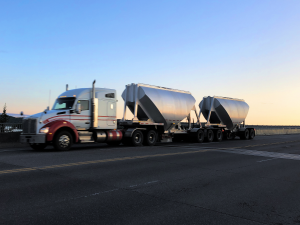 Find a Dry Bulk Tanker Job
We match you with a job based on your professional qualifications and personal lifestyle preferences. Create a free driver profile with Drive My Way to receive your job matches.
https://www.drivemyway.com/wp-content/uploads/2020/12/alberta-1499376_1920.jpg
1128
1920
Alayna Klco
https://www.drivemyway.com/wp-content/uploads/2022/03/Untitled-1-3.png
Alayna Klco
2020-12-16 13:15:50
2021-08-12 12:49:51
Dry Bulk Tanks: Everything to Know as a Truck Driver