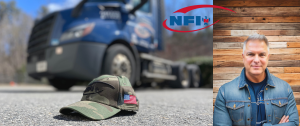 Truck driving is a career path that demands strength, resilience, and commitment to seeing a job through. A good driver can take pride in the work of a job well done, even during the long, quiet miles of the open road. The same skills are required of the courageous men and women who serve our country. However, for veterans who choose to become drivers, the transition from the armed forces to trucking can be a challenging one, especially when it comes to mental health. We spoke with David Pike, Director of Recruiting for NFI, who shared his story of life as a military veteran and ways he's found support with the trucking industry.  
A Comrade in Arms
David Pike's professional journey began in the Marine Corps, where he worked until 1994. After working in an ammunition and explosives MOS for six years, Sergeant Pike was returning from the Western Pacific deployment when he learned there were opportunities to be assigned to recruiting duty stateside and in the local community. He took the opportunity and quickly fell in love with the rewarding feeling of how recruiting can change someone's life. 
"Initially, in military recruiting, you're selling the glory, honor, and reputation of the Marine Corps. That changed shortly after a young Marine I had recruited, returned home from boot camp and said, "Thank You". Not sure at the time why gratitude was extended, "It later hit me that I had changed that Marine's life and gave him an opportunity and hope for a better future." Pike said. Later, Pike shared, "Changing someone's life is powerful and should be taken with the highest level of responsibility in any profession, especially transportation," and this is why he loves so much of what we do in recruiting. He later noted, "We truly and genuinely affect people's lives." 
In 1993, upon leaving the Marine Corps after almost 10 years, Sergeant Pike transitioned his recruiting skills into the transportation industry. That transition was not without hurdles, but his story is a testament to resilience and dedication. He stated that in the 30 years since joining the transportation world, he and his team fully embrace the concept of changing lives and not "filling seats." Pike shared with us a few of his most passionate items relating to his profession; and being a veteran himself, it is obvious that is one area that he is championing within NFI. Veterans all too often need advocacy when coming to a new industry. Veterans speak the same language and understand each other's stories, challenges, and armored front better than most. 
Mental Health: Unseen Battles
Stress is a real issue in the transportation industry. Professional drivers may be comfortable dealing with the challenges of the road, but veterans have other battles and challenges they may be dealing with that are unique. "Mental health battles are often left unseen and not addressed," Pike states. He highlighted the unspoken realities of veterans transitioning from military to civilian life. He pointed out that, 
"As veterans, we are expected to blend seamlessly back into civilian life despite having put up a shield for years even while carrying emotional burdens, memories, and experiences that most people will never understand. In the service, especially if you have any position of leadership, you are taught to NEVER show weakness, show confidence to your troops." 
The experiences and emotional burdens of a life of military service left their mark on Pike's relationships after he spent years trying to "just man up." He found himself losing friends, trying to deal with an ending marriage, and nearly losing contact with his daughter. Fortunately, prioritizing mental health turned things around. 
The Power of Understanding
Truck drivers may not always talk about mental health, but it's a subject that affects us all. Pike was very open with us about his mental health struggles and ongoing resolution. His journey serves as a reminder that we're not alone in this. In his role as Director of Recruiting with NFI, Pike knows that veterans often emerge from service with emotional armor, and the industry has a role to play in helping them transition to civilian life successfully. He advocates for support that comes from trucking companies and from fellow drivers, especially those who are brothers in arms. 
"It's a call to action, not just for recruiters but for all of us. As drivers, we have a unique perspective and a shared experience. Let's create a culture where we can talk about our experiences and support one another when needed." 
David Pike's story is a testament to the power of understanding, support, and community. He's been through the challenges and triumphs of working in trucking, and he knows the unique struggles veterans face when transitioning into civilian life.  
Drivers aren't just colleagues; it's a family on the road. Pike hopes that all members of this industry learn from one another, support one another, and ensure that our community remains strong and resilient.  
Thoughts for the Road
When we asked Pike if he had any advice for transitioning to life as a civilian, he left us with a few final thoughts.  
"You are all amazing soldiers, sailors, etc., but all those geeks in high school will be your bosses now. You come out thinking you're a big star in the military, but you end up working for the nerds in high school.

The first book he recommends on the journey to better mental health:

The Four Agreements: A Practical Guide to Personal Freedom

by Don Miguel Ruiz 

 

"We've got to own that sometimes we are broken, sometimes we need help. We've got to let our friends know. How do you learn to be the friend to ask, 'Are you ok?'"

 
Pike's road, like that of many veterans transitioning to civilian life, has not been smooth. But after prioritizing his own mental health, he happily shared that his personal relationships have never been better. And his last thought for the road? "If you want any advice, go live. Go make memories and spend time together. You do that, and life is going to be good." 
https://www.drivemyway.com/wp-content/uploads/2023/11/David-NFI-article.png
630
1500
Alayna Klco
https://www.drivemyway.com/wp-content/uploads/2022/03/Untitled-1-3.png
Alayna Klco
2023-11-10 21:42:45
2023-11-17 19:07:58
Veterans in Trucking: An Insider Perspective from NFI's Director of Driver Recruiting