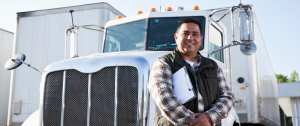 Should I become a truck driver? It's a common question for anyone who is considering a change of career and is interested in the transportation and shipping industry. Perhaps you have your CDL but want to pursue a job as a truck driver over driving a bus. Regardless of what led you to this question, it is important to consider whether it is a good fit for you before becoming a truck driver.  
Top 5 Reasons to Become a Truck Driver
A career in truck driving is extremely rewarding, but it can also be challenging. Some of the top reasons that drivers have shared with us about why they became truck drivers are listed below. 
Ideal Job for People from Different Walks of Life:

There is no set profile for a truck driver. The industry has become incredibly diverse and people from all different walks of life choose to become truck drivers. People fresh out of high school consider it as a career, but for many people it is a 2

nd

, 3

rd

, or even 4

th

career that they arrive at in their middle age. Truck driving is a great career option for both men and women, people from different educational backgrounds, and is especially an ideal job for

veterans

. No two truck driver stories are the same, which is why it is a career that appeals to a wide variety of people.

Opportunity to Travel:

If you have ever wanted to get on the road and see different parts of the country, then trucking is the perfect career choice for you. Many people choose a career as a truck driver solely for this purpose. If your company allows guests to accompany you on your truck, then it is also a great opportunity to show your family other states as well. 

Independent or Team Environment:

The beauty of trucking is that you can be as independent or social as you want while working. For those who crave freedom, minimal supervision, and nothing but solace and the open road, driving solo is a great career fit. If you would prefer not to be alone, you can consider a

team driving job

which allows you to drive with another person, which can be a friend or even

your spouse

. Depending on what kind of job you would prefer, there is something for everyone in the world of trucking. 

Job Stability:

Companies are always looking to boost their roster with experienced, quality truck drivers, which makes trucking a stable field which is largely in demand. Trucking is an essential industry and when you choose to be a truck driver, you are often able to find work quickly. With the right company, you can also look forward to an array of benefits including opportunities for career advancement, mentorship, competitive compensation, home time, and more. 

Purpose and Focus:

Whether you are fresh out of school or looking to change careers later in life, truck driving is a career which can provide you with purpose and focus. Truck driving is a challenging job, but it is full of unique opportunities and provides the chance to contribute to a field that is vital to communities across America. 
At Drive My Way, we are proud to help drivers across the nation find the right trucking job that matches their unique needs. Follow us on Facebook, Twitter, and Instagram to stay updated with new job openings and exciting announcements.  
https://www.drivemyway.com/wp-content/uploads/2023/09/blog-photo-25.png
630
1500
Emily Bihm
https://www.drivemyway.com/wp-content/uploads/2022/03/Untitled-1-3.png
Emily Bihm
2023-09-06 18:36:59
2023-09-06 18:37:43
Should I Become a Truck Driver?