Today's Job of the Day comes to us from J & M Tank Lines, Inc.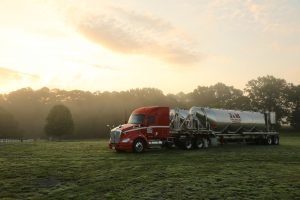 J & M Tank Lines is a family owned trucking company that has been in business since 1948. They have terminals located in Alabama, Georgia, and Texas. They operate 550 pneumatic tanks, 50 food grade tanks and 25 flat beds to make transportation in the southeast as efficient as possible.
J & M Tank Lines is currently seeking CDL A Local Company Drivers in Birmingham, AL. The company is searching for drivers who want to expand their professional driving careers and haul dry-bulk in pnematic trailers. No endorsements required and no previous pneumatic trailer experience required. Also, J & M Tank Lines offers great guaranteed weekly pay; bonus opportunities for referrals, weekends, and overnight; medical, vision, and dental insurance; paid vacations and holidays; 401k with company percentage match; and more.
J & M Tank Lines asks that applicants be at least 25 years old, already have their CDL A license, and have had at least 18 months of verifiable tractor-trailer experience.

Interested in applying?
Learn more about the job requirements, benefits, pay and more.