It's summer. That means a lot more fun in the sun. But frolicking in the summer sun is full of hidden dangers. If you're someone with a CDL trucking job, you have to be even more mindful of them, too. The sun may feel nice beaming on your face, but when it blazes through the windshield, it brings added risks. Real Women in Trucking Inc. and Drive My Way share some truck driver sun protection tips for reducing sunburn and protecting yourself from harmful UV rays.
Candace Marley, a friend to Real Women in Trucking, knows the risks of sun exposure well. Her husband, Michael Marley, got the deadliest form of skin cancer, melanoma, on his face. He had it removed in 2003 and went on with his life, serving in the Army then living out his boyhood dream of becoming a truck driver.
But it wasn't meant to last. Six years later, Michael's cancer returned. Only this time, the melanoma had spread to his chest cavity. Within seven months of the cancer's return, he died at age 37.
"Mike got skin cancer from long-term sun exposure," says Candace, who got a CDL trucking job herself when Mike became too ill to work. "He was a mechanic in the Army and a truck driver, so every single day he was being exposed to the sun's rays. And let me tell you, melanoma is a very fast killer."
Sandi Talbott, vice president of Real Women in Trucking, is a skin cancer survivor. She and her RWIT colleague Idella Hansen urge drivers to take these 5 simple truck driver sun protection tips. It's great advice that may just save your life.
1. Wear high-quality sunscreen
All sunscreens are not created equal. Chemical UV filters such as octinoxate and oxybenzone reportedly cause hormonal changes in animals, and one significant animal study found that the inactive ingredient retinyl palmitate may become cancer-causing when exposed to light. Beware of these ingredients on labels when shopping for sunscreen.
Warnings aside, finding the right sunscreen will set you on a strong path of sun protection this summer. In 2016, the Environmental Working Group, which monitors all sunscreens for safety and effectiveness, recommends Burt's Bees Baby Bee Sunscreen Stick, SPF 30; All Good Sunscreen Butter, SPF 50+; and True Natural Ultra Protect 50 Antioxidant Sunscreen, Natural Coconut, SPF 50.
2. Apply enough sunscreen
Consumer Reports magazine recommends applying sunscreen 15 to 30 minutes before going outside. For liquid sunscreens, it recommends using 1 teaspoon of sunscreen for each part of your body.
Another Tip
Reapply sunscreen every two hours and after sweating or swimming. Spray sunscreens are less recommended than liquid sunscreens because of their risks for inhalation, flammability and uneven application.
3. Wear clothes that will protect you from the sun.
While others have the option of staying in the shade, people with CDL trucking jobs do not. What's more, sun is magnified when it shines through the window, notes Real Women in Trucking's Hansen, 66, who's held a trucking job for 47 years.
"The left side of my body looks like it belongs to an 80-year-old woman, the right side of my body looks like it belongs to a 66-year-old woman," she says. "It's skin damage, very definitely." Drivers should protect themselves by wearing long sleeves and long pants made from tightly woven fabric. Outdoors, add a hat to the mix.
4. Use a UV shield on the driver's side window.
Fortunately, UVA-filtering window film can prevent skin damage, filtering out more than 99 percent of UVA and UVB rays while maintaining visibility.
Another Tip
Tinted window film is illegal in some states, so opt for a shield that is not tinted.
5. Wear a sun-protective sleeve over your driving arm.
Sandi Talbott of Real Women in Trucking picked up a sleeve at the Mid-America Trucking Show one year. It helps protect her driving arm against sun damage.
"Keep in mind, the sun shines year-round, even on cloudy days," Talbott says. "If there's snow on the ground, that reflection is magnified, too. As truck drivers, we are exposed to UV rays all day long." This sleeve from UV Skinz (pictured) is made of stretch knit and costs $19.95 per pair.
Drive My Way is proud to partner with the membership organization REAL Women in Trucking, Inc. to help drivers match with prospective employers. Registration on Drive My Way is free for all drivers, but if you heard about us from REAL Women in Trucking, Inc., please take the time to note it in your registration.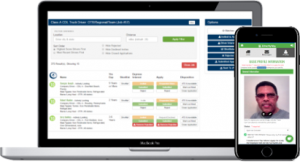 Want to find a CDL job you love?
Drive My Way matches drivers with jobs based on their qualifications and lifestyle preferences.
https://www.drivemyway.com/wp-content/uploads/2021/02/sunset-3378088_1920.jpg
764
1920
Alayna Klco
https://www.drivemyway.com/wp-content/uploads/2022/03/Untitled-1-3.png
Alayna Klco
2016-06-22 00:00:00
2021-08-12 19:37:11
How to Protect Yourself from the Sun When You Have a Trucking Job